Arrhythmias and COVID-19 infection
Ashley Chin

Cardiac Clinic University of Cape Town and Groote Schuur Hospital

Jane Moses

Stellenbosch University and Tygerberg Hospital

Andrew Thornton

Sunninghill Hospital
Abstract
Arrhythmias can be a clinical manifestation of COVID-19 infection. COVID-19 infection can also be a precipitant of known arrhythmias which can increase the risk of morbidity and mortality. Management of arrhythmias should generally follow standard guidelines of arrhythmia management. Catheter ablation in the midst of the COVID-19 pandemic should be limited to arrhythmias that are immediately life-threatening or which may affect prognosis in the short-term. Some novel treatments like chloroquine, hydroxychloroquine and azithromycin can prolong the QT interval and predispose patients to life-threatening arrhythmias.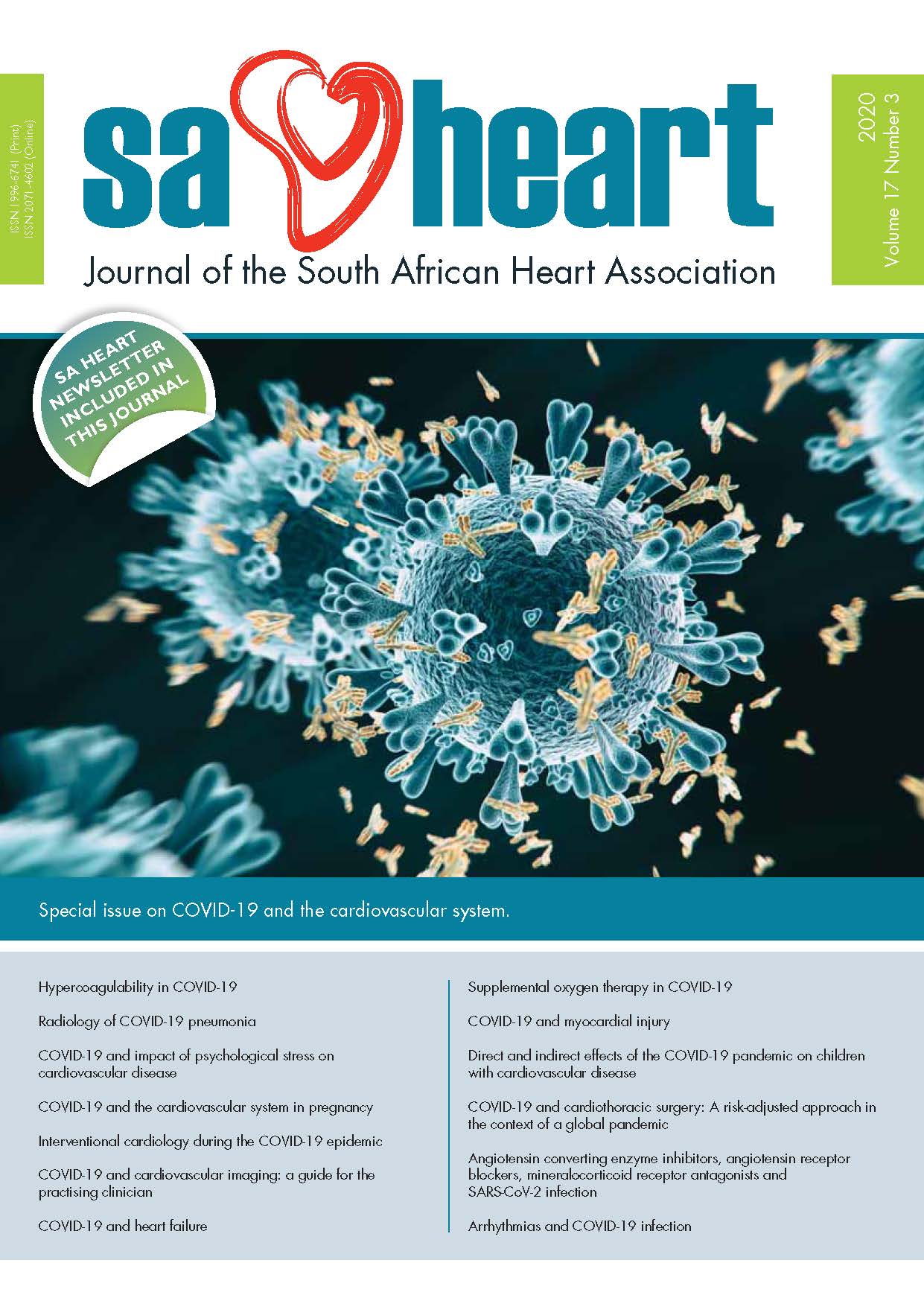 Copyright (c) 2020 SA Heart Journal
This work is licensed under a Creative Commons Attribution-NonCommercial-NoDerivatives 4.0 International License.
This journal is an open access journal, and the authors and journal should be properly acknowledged, when works are cited.
Authors may use the publishers version for teaching purposes, in books, theses, dissertations, conferences and conference papers.Â
A copy of the authors' publishers version may also be hosted on the following websites:
Non-commercial personal homepage or blog.
Institutional webpage.
Authors Institutional Repository.Â
The following notice should accompany such a posting on the website: "This is an electronic version of an article published in SAHJ, Volume XXX, number XXX, pages XXX–XXX", DOI. Authors should also supply a hyperlink to the original paper or indicate where the original paper (http://www.journals.ac.za/index.php/SAHJ) may be found.Â
Authors publishers version, affiliated with the Stellenbosch University will be automatically deposited in the University's' Institutional Repository SUNScholar.
Articles as a whole, may not be re-published with another journal.
Copyright Holder: SA Heart Journal
The following license applies:
Attribution CC BY-NC-ND 4.0