Angiotensin converting enzyme inhibitors, angiotensin receptor blockers, mineralocorticoid receptor antagonists and SARS-CoV-2 infection
Pratiksha Valera

Division of Cardiology Department of Medicine Groote Schuur Hospital and University of Cape Town

Pheletso Letuka

Division of Cardiology Department of Medicine Hatter Institute for Cardiovascular Research in Africa Faculty of Health Sciences Groote Schuur Hospital and University of Cape Town

Nontobeko Mathenjwa

Division of Cardiology Department of Medicine Groote Schuur Hospital and University of Cape Town

Ntobeko Ntusi

Division of Cardiology Department of Medicine Hatter Institute for Cardiovascular Research in Africa Cape Universities Body Imaging Centre Faculty of Health Sciences Groote Schuur Hospital and University of Cape Town
Abstract
Angiotensin converting enzyme inhibitors (ACE-Is), angiotensin receptor blockers (ARBs) and mineralocorticoid receptor antagonists (MRAs) reduce morbidity, mortality and hospitalisations from hypertension, chronic kidney disease and heart failure. Patients and clinicians will be aware of the recently publicised interaction between the renin-angiotensin-aldosterone system (RAAS) and SARS-CoV-2, the orthocoronavirus responsible for coronavirus disease 2019 (COVID-19). Consequently, concern has abounded in regard to whether prescribed blockers of the RAAS like ACE-Is, ARBs and MRAs may, in fact, increase or decrease susceptibility to SARS-CoV-2 infection. Limited scientific evidence has been contradictory. Scientists have postulated both potentially harmful and potentially beneficial effects of these drugs on the natural history of COVID-19. Membrane-bound angiotensin-converting enzyme 2 (ACE2) participates in the entry of SARSCoV-2 into human cells, and animal studies show that ACE-Is and ARBs upregulate ACE2 expression, which would theoretically increase risk for or severity of COVID-19. Conversely, RAAS blockers could benefit patients with COVID-19 through various mechanisms: ACE2 converts angiotensin II to angiotensin, which has potentially beneficial vasodilatory and anti-inflammatory properties. Observational studies have failed to provide compelling data on whether COVID-19 patients on RAAS blockers fare better or worse than otherwise similar patients, though there is emerging evidence that RAAS inhibitors may be protective in COVID-19 and are associated with lower cardiovascular and all-cause mortality. Most professional societies, including the World Health Organization and the South African Heart Association and the South African National Department of Health have recommended that patients on RAAS blockers with COVID-19 should continue taking them. In this article, we review the existing evidence for the interplay between RAAS blockers and SARS-CoV-2 infection.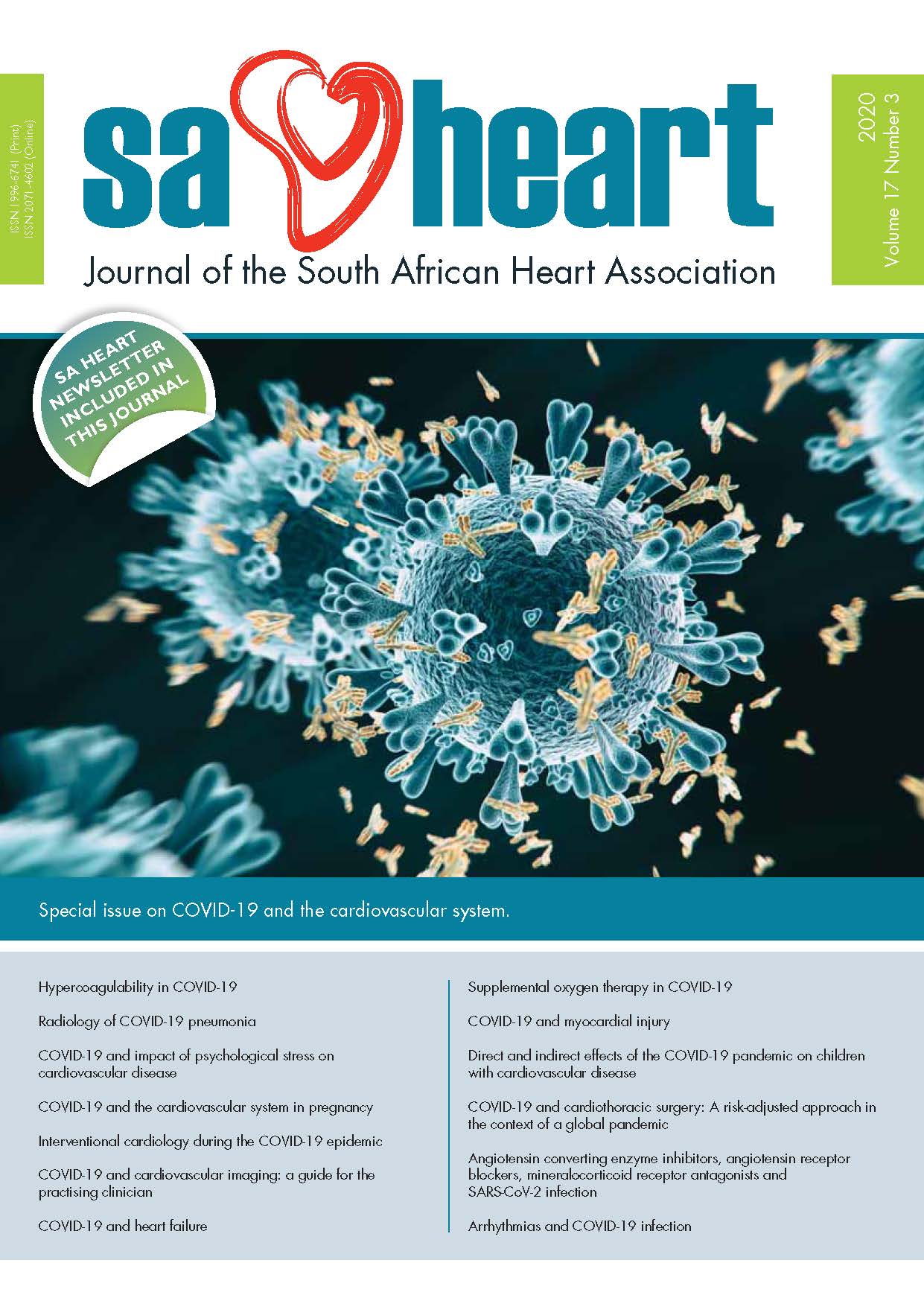 Copyright (c) 2020 SA Heart Journal
This work is licensed under a Creative Commons Attribution-NonCommercial-NoDerivatives 4.0 International License.
This journal is an open access journal, and the authors and journal should be properly acknowledged, when works are cited.
Authors may use the publishers version for teaching purposes, in books, theses, dissertations, conferences and conference papers.Â
A copy of the authors' publishers version may also be hosted on the following websites:
Non-commercial personal homepage or blog.
Institutional webpage.
Authors Institutional Repository.Â
The following notice should accompany such a posting on the website: "This is an electronic version of an article published in SAHJ, Volume XXX, number XXX, pages XXX–XXX", DOI. Authors should also supply a hyperlink to the original paper or indicate where the original paper (http://www.journals.ac.za/index.php/SAHJ) may be found.Â
Authors publishers version, affiliated with the Stellenbosch University will be automatically deposited in the University's' Institutional Repository SUNScholar.
Articles as a whole, may not be re-published with another journal.
Copyright Holder: SA Heart Journal
The following license applies:
Attribution CC BY-NC-ND 4.0