COVID-19 and myocardial injury
AS Herrey

Barts Heart Centre Barts NHS Trust and University College London

SA Mohiddin

Barts Heart Centre Barts NHS Trust and University College London

p Letuka

Division of Cardiology Department of Medicine Hatter Institute for Cardiovascular Research in Africa Groote Schuur Hospital and University of Cape Town

NAB Ntusi

Division of Cardiology Department of Medicine Hatter Institute for Cardiovascular Research in Africa Cape Universities Body Imaging Centre Wellcome Centre for Infectious Diseases Research in Africa Faculty of Health Sciences Groote Schuur Hospital and University of Cape Town
Abstract
The 2019 coronavirus pandemic (COVID-19), caused by SARS-CoV-2, has affected millions globally and has accounted for a multitude of deaths. Cardiovascular involvement with myocardial injury is common and is associated with severe morbidity and mortality. The pathophysiology of acute myocardial injury is complex and may include type I and type II myocardial infarction, direct damage to the cardiomyocytes, systemic inflammation, myocardial interstitial fibrosis, interferon mediated immune response, exaggerated cytokine response by Type 1 and 2 helper T cells, in addition to hypoxia. Angiotensin converting enzyme-2 receptors (ACE2-R) play a pivotal role in mediating viral entry into cells. Disruption of receptor signalling may also be the principal mechanism facilitating viral pathogenicity and altered ACE2-R biology may be a reason why patients with cardiovascular disease are more likely to be infected with SARS-CoV-2 and more likely to develop severe symptoms. New-onset hypertension, arrhythmia, myocarditis, heart failure, cardiomyopathy and coronary heart disease are among major cardiovascular disease comorbidities and complications seen in severe cases of COVID-19. As a surrogate for myocardial injury, multiple studies have shown increased cardiac biomarkers, mainly cardiac troponins I and T, in the infected patients – especially those with severe disease. Myocarditis is another cause of morbidity among COVID-19 patients.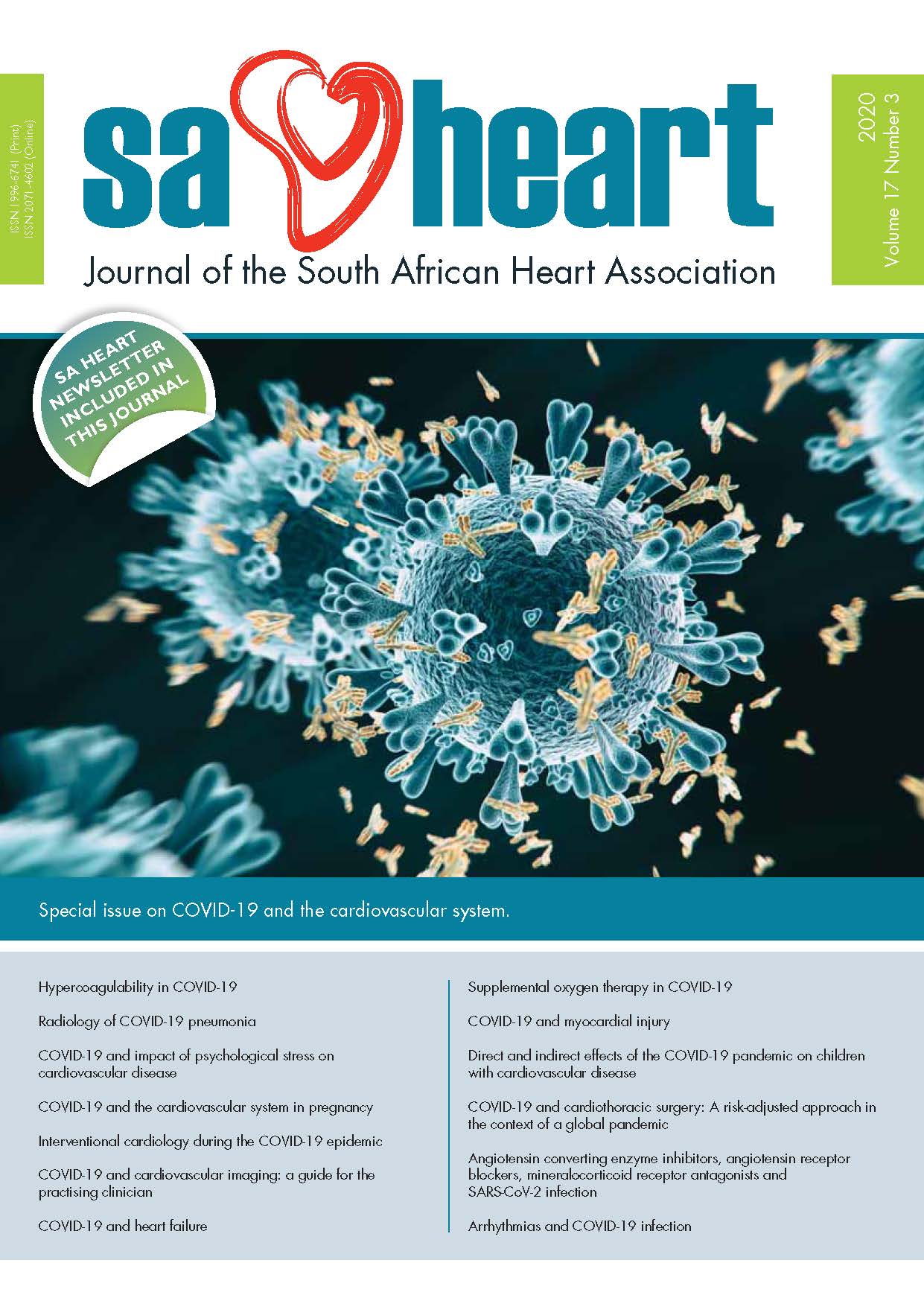 Copyright (c) 2020 SA Heart Journal
This work is licensed under a Creative Commons Attribution-NonCommercial-NoDerivatives 4.0 International License.
This journal is an open access journal, and the authors and journal should be properly acknowledged, when works are cited.
Authors may use the publishers version for teaching purposes, in books, theses, dissertations, conferences and conference papers.Â
A copy of the authors' publishers version may also be hosted on the following websites:
Non-commercial personal homepage or blog.
Institutional webpage.
Authors Institutional Repository.Â
The following notice should accompany such a posting on the website: "This is an electronic version of an article published in SAHJ, Volume XXX, number XXX, pages XXX–XXX", DOI. Authors should also supply a hyperlink to the original paper or indicate where the original paper (http://www.journals.ac.za/index.php/SAHJ) may be found.Â
Authors publishers version, affiliated with the Stellenbosch University will be automatically deposited in the University's' Institutional Repository SUNScholar.
Articles as a whole, may not be re-published with another journal.
Copyright Holder: SA Heart Journal
The following license applies:
Attribution CC BY-NC-ND 4.0