Splitting at the seams: Extensive Stanford Type A aortic dissection
Jerry Fan

Baylor Scott & White Health - Temple Memorial Hospital

Mary Lee

Baylor Scott & White Health - Temple Memorial Hospital

Austin Lewis

Baylor Scott & White Health - Temple Memorial Hospital
Abstract
We present a rare case of extensive Stanford Type A aortic dissection extending from the ascending aorta superiorly to the carotids and inferiorly to the infra-renal abdominal aorta. A 34-year-old male with history of hypertension and tobacco use presents with chest pain, dyspnoea, slurred speech and altered mental status. Chest radiograph showed no mediastinal widening. CT head showed multiple sub-cortical infarcts and CT chest showed mild dilation of the thoracic aorta but no dissection. He subsequently reported bilateral lower extremity numbness and weakness and was intubated for hypoxic respiratory failure. A CT scan of the chest showed extensive Type A aortic dissection. He underwent emergent surgical intervention but due to the extensive dissection and blood loss, he ultimately expired.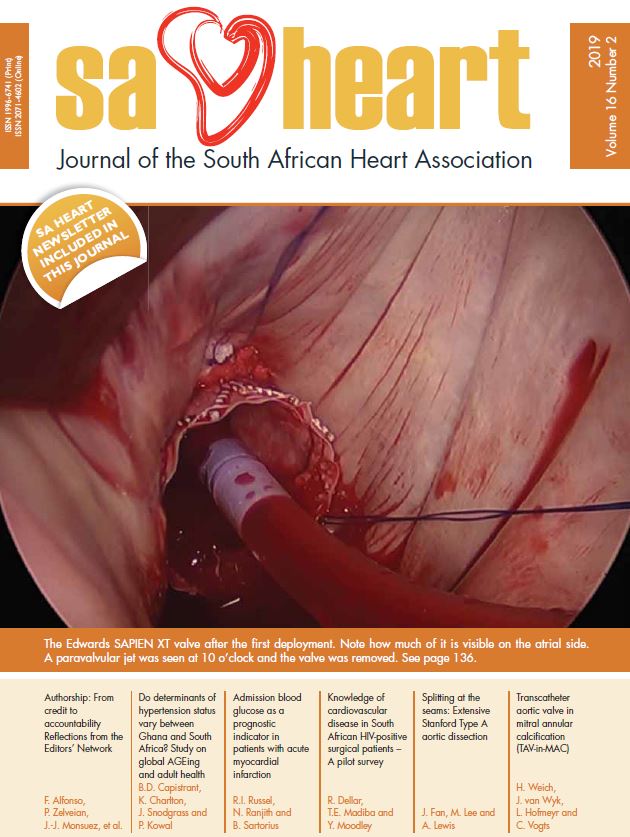 Copyright (c) 2019 SA Heart Journal
This work is licensed under a Creative Commons Attribution-NonCommercial-NoDerivatives 4.0 International License.
This journal is an open access journal, and the authors and journal should be properly acknowledged, when works are cited.
Authors may use the publishers version for teaching purposes, in books, theses, dissertations, conferences and conference papers.Â
A copy of the authors' publishers version may also be hosted on the following websites:
Non-commercial personal homepage or blog.
Institutional webpage.
Authors Institutional Repository.Â
The following notice should accompany such a posting on the website: "This is an electronic version of an article published in SAHJ, Volume XXX, number XXX, pages XXX–XXX", DOI. Authors should also supply a hyperlink to the original paper or indicate where the original paper (http://www.journals.ac.za/index.php/SAHJ) may be found.Â
Authors publishers version, affiliated with the Stellenbosch University will be automatically deposited in the University's' Institutional Repository SUNScholar.
Articles as a whole, may not be re-published with another journal.
Copyright Holder: SA Heart Journal
The following license applies:
Attribution CC BY-NC-ND 4.0