Knowledge of cardiovascular disease in South African HIV-positive surgical patients – A pilot survey
Rachael Dellar

Medical Sciences Department University of Oxford Oxford United Kingdom

Thandinkosi Madiba

Department of Surgery Nelson R. Mandela School of Medicine University of KwaZulu-Natal

Yoshan Moodley

Faculty of Health & Environmental Sciences Central University of Technology Bloemfontein
Abstract
Background: Medical and surgical HIV-positive patients are at risk of cardiovascular disease (CVD). Surgical patients are admitted to hospital for a few days around the time of their surgeries, allowing sufficient opportunity for health promotion interventions. Health promotion could improve CVD knowledge and encourage lifelong healthy behaviours. However, this approach requires that baseline CVD knowledge first be established. This study sought to determine the knowledge of CVD in HIV-positive South African (SA) surgical patients.
Methods: This was a prospective pilot survey of HIVpositive surgical patients who attended a tertiary hospital in Durban, South Africa, between 1 October 2016 and 31 March 2017. Patients completed 2 questionnaires: (1) a demographic characteristics questionnaire, and (2) a CVD knowledge questionnaire (identifying risk factors and signs/symptoms of myocardial infarction and stroke). All data were analysed using descriptive statistical methods.
Results: The study sample consisted of 39 HIV-positive surgical patients. Correct responses for the items on the CVD knowledge questionnaire ranged between 0.0% and 61.5% for risk factors, and between 0.0% and 89.7% for signs/symptoms.
Conclusion: Knowledge of CVD risk factors and signs/ symptoms in this study was less than desirable. Levels of CVD knowledge are likely a function of educational attainment.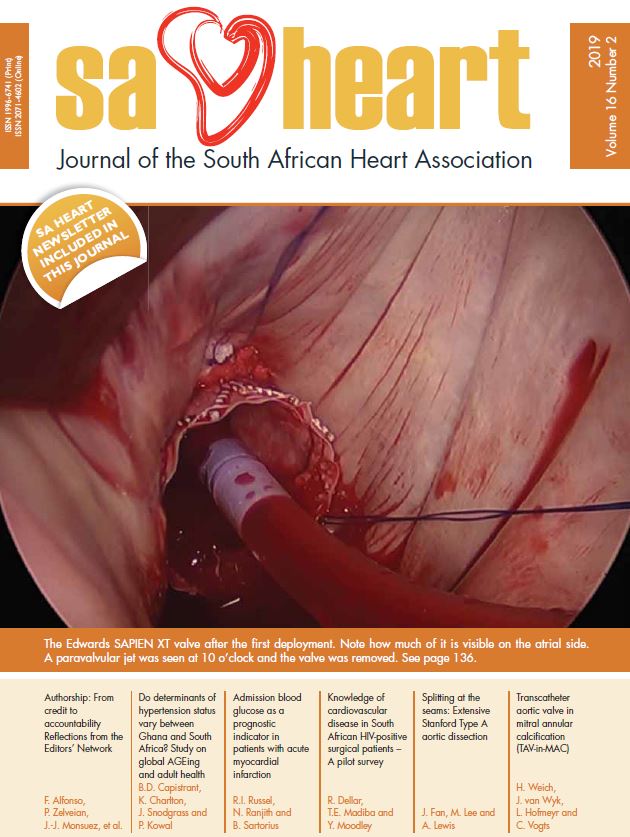 Copyright (c) 2019 SA Heart Journal
This work is licensed under a Creative Commons Attribution-NonCommercial-NoDerivatives 4.0 International License.
This journal is an open access journal, and the authors and journal should be properly acknowledged, when works are cited.
Authors may use the publishers version for teaching purposes, in books, theses, dissertations, conferences and conference papers.Â
A copy of the authors' publishers version may also be hosted on the following websites:
Non-commercial personal homepage or blog.
Institutional webpage.
Authors Institutional Repository.Â
The following notice should accompany such a posting on the website: "This is an electronic version of an article published in SAHJ, Volume XXX, number XXX, pages XXX–XXX", DOI. Authors should also supply a hyperlink to the original paper or indicate where the original paper (http://www.journals.ac.za/index.php/SAHJ) may be found.Â
Authors publishers version, affiliated with the Stellenbosch University will be automatically deposited in the University's' Institutional Repository SUNScholar.
Articles as a whole, may not be re-published with another journal.
Copyright Holder: SA Heart Journal
The following license applies:
Attribution CC BY-NC-ND 4.0