Mirror image: Recurrent Takotsubo cardiomyopathy with variable regional involvement
Mary Lee

Department of Internal Medicine Baylor Scott & White Medical Center Temple

Jerry Fan

Department of Internal Medicine Baylor Scott & White Medical Center Temple

Dane Langsjoen

Department of Cardiovascular Medicine Baylor Scott & White Medical Center Temple

Dan Giebel

Department of Cardiovascular Medicine Baylor Scott & White Medical Center Temple
Abstract
Takotsubo cardiomyopathy (TCM), a stress-induced cardiomyopathy, is a well-recognised cause of left ventricular dysfunction. It commonly presents similar to acute coronary syndrome with chest, dyspnoea, and electrocardiographic changes consistent with ischaemia and elevations of cardiac markers. Takotsubo cardiomyopathy often presents with acute myocardial stunning without evidence of coronary artery disease or atherosclerotic disease that is out of proportion to the demonstrated disease. Takotsubo cardiomyopathy has characteristic left ventriculography and radiographic findings – including left ventricular hypokinesis, adjacent areas of hyperkinesis, and variable regional involvement (i.e. apical, mid-ventricular, or basal ballooning patterns). Recurrent disease can occur and is often found to have similar ventricular wall dysfunction patterns. However, we present an uncommon case of possible recurrent Takotsubo cardiomyopathy that was found to have variable regional involvement.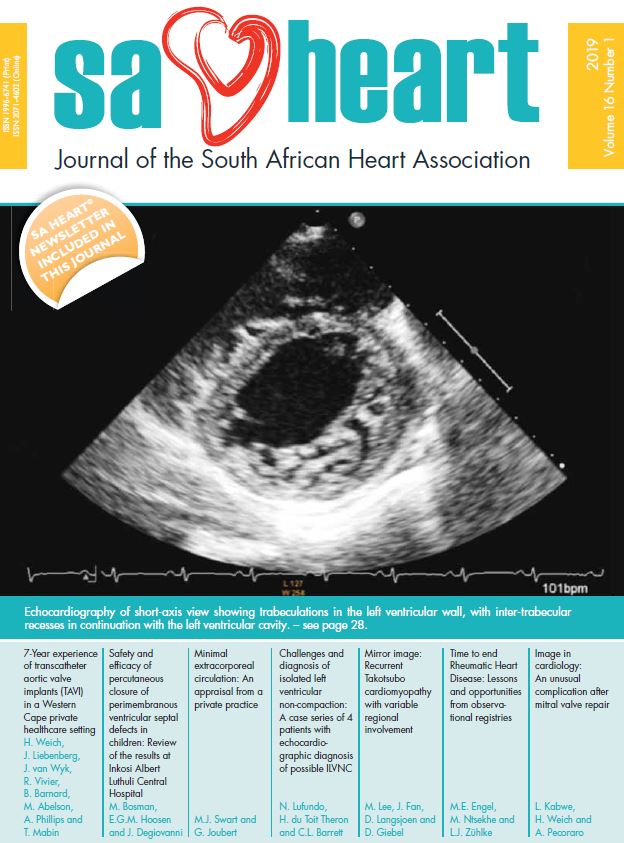 Copyright (c) 2019 SA Heart Journal
This work is licensed under a Creative Commons Attribution-NonCommercial-NoDerivatives 4.0 International License.
This journal is an open access journal, and the authors and journal should be properly acknowledged, when works are cited.
Authors may use the publishers version for teaching purposes, in books, theses, dissertations, conferences and conference papers.Â
A copy of the authors' publishers version may also be hosted on the following websites:
Non-commercial personal homepage or blog.
Institutional webpage.
Authors Institutional Repository.Â
The following notice should accompany such a posting on the website: "This is an electronic version of an article published in SAHJ, Volume XXX, number XXX, pages XXX–XXX", DOI. Authors should also supply a hyperlink to the original paper or indicate where the original paper (http://www.journals.ac.za/index.php/SAHJ) may be found.Â
Authors publishers version, affiliated with the Stellenbosch University will be automatically deposited in the University's' Institutional Repository SUNScholar.
Articles as a whole, may not be re-published with another journal.
Copyright Holder: SA Heart Journal
The following license applies:
Attribution CC BY-NC-ND 4.0