Minimal extracorporeal circulation: An appraisal from a private practice
Marius Swart

Mediclinic Bloemfontein

Gina Joubert

Mediclinic Bloemfontein
Abstract
Introduction: The systemic inflammatory response associated with cardio-pulmonary bypass (CPB) is detrimental to organ function in varying degrees. Minimal extracorporeal circulation (MECC) assumes an attenuation of these deleterious effects. The aim of this study was to compare conventional CPB (CCPB) with MECC, in a population of patients who had their CABG done in a private practice in South Africa.
Methods: Two historical cohort analytical studies were done on patients who had isolated CABG done by one surgeon in the Mediclinic Bloemfontein. Patients who had their CABG done using CCPB were compared statistically using logistic regression to those who had their CABG done with MECC. A propensity score matching was also used to compare the 2 groups. In a second follow-up study, a once-off lactate on arrival in the intensive care unit was compared. A qualitative assessment of the technique by the various role-players in theatre was added to the initial study.
Results: The primary CCPB group had 1 572 patients. The MECC group comprised 367 patients. No statistically significant outcome difference was found in terms of mortality, major morbidity, post-operative blood loss or usage of homologous blood. Once the 2 groups were evenly matched, patients with MECC had a better serum creatinine postoperatively, but renal dialysis could not be avoided. Patients with MECC also had a statistically shorter hospital stay. The second study (CCPB n=63 and MECC n=100) confirmed the shorter hospital stay. There was no difference in the lactate value between the 2 groups. In general, there are varying levels of enthusiasm among the theatre specialists for a MECC strategy.
Conclusions: MECC protects the kidneys, but not so much against renal dialysis. MECC patients could stay for a somewhat shorter time in hospital. Tissue perfusion based on a once-off lactate level was equal. MECC might be technically more demanding. This article is an important addition to the literature that adds a local perspective.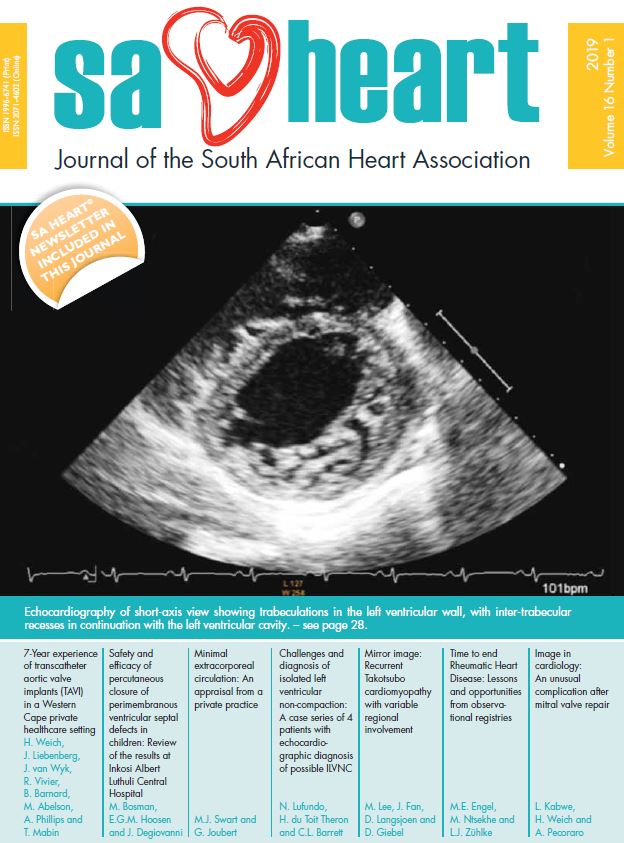 Copyright (c) 2019 SA Heart Journal
This work is licensed under a Creative Commons Attribution-NonCommercial-NoDerivatives 4.0 International License.
This journal is an open access journal, and the authors and journal should be properly acknowledged, when works are cited.
Authors may use the publishers version for teaching purposes, in books, theses, dissertations, conferences and conference papers.Â
A copy of the authors' publishers version may also be hosted on the following websites:
Non-commercial personal homepage or blog.
Institutional webpage.
Authors Institutional Repository.Â
The following notice should accompany such a posting on the website: "This is an electronic version of an article published in SAHJ, Volume XXX, number XXX, pages XXX–XXX", DOI. Authors should also supply a hyperlink to the original paper or indicate where the original paper (http://www.journals.ac.za/index.php/SAHJ) may be found.Â
Authors publishers version, affiliated with the Stellenbosch University will be automatically deposited in the University's' Institutional Repository SUNScholar.
Articles as a whole, may not be re-published with another journal.
Copyright Holder: SA Heart Journal
The following license applies:
Attribution CC BY-NC-ND 4.0