Foundations of the South African Heart Association: The South African Society of Cardiac Practitioners 1985 - 1999
Anthony J. Dalby

Cardiologist Life Fourways Hospital
Abstract
The South African Heart Association (SA Heart®) was established in 1999. Prior to 1999, 2 professional societies represented the interests of cardiologists and cardiac surgeons in South Africa – the South African Cardiac Society and the South African Society of Cardiac Practitioners. The latter was formed in 1985 by cardiologists in private practice to serve the interests of private practitioners. At the time, the South African Cardiac Society was based mainly in the academic training institutions and the need arose to have a representative body addressing the needs of private practice.
In the late 1990s it became clear that the 2 societies were competing for the same support from industry and were diluting each other's influence. The realisation that strength lay in unity led to an amalgamation of the 2 societies in 1999 – to form the SA Heart® Association.
In this commentary, Dr Tony Dalby provides us with a personal reflection of the history of the South African Society of Cardiac Practitioners. In future issues of the SA Heart® Journal, we will feature similar personal reflections to document the history of the South African Cardiac Society and the South African Heart Association.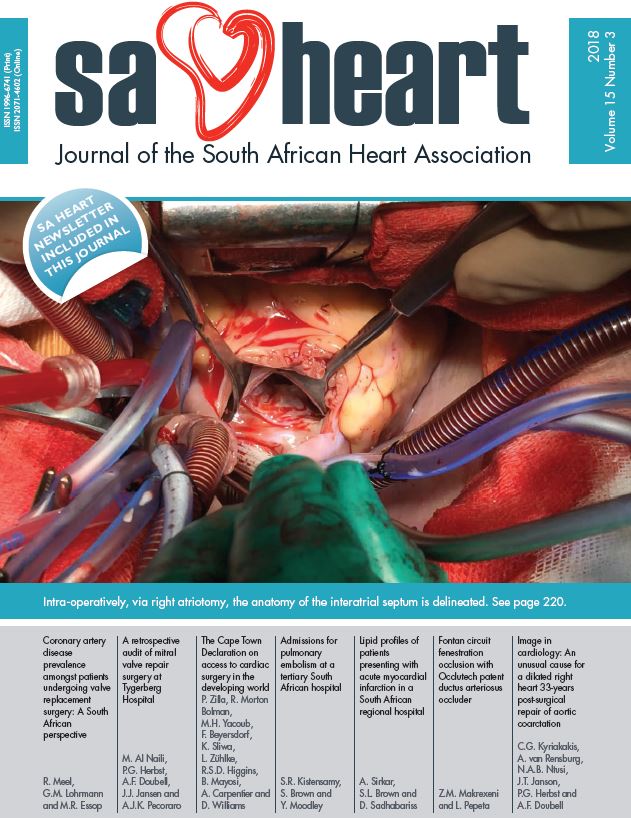 Copyright (c) 2018 SA Heart Journal
This work is licensed under a Creative Commons Attribution-NonCommercial-NoDerivatives 4.0 International License.
This journal is an open access journal, and the authors and journal should be properly acknowledged, when works are cited.
Authors may use the publishers version for teaching purposes, in books, theses, dissertations, conferences and conference papers.Â
A copy of the authors' publishers version may also be hosted on the following websites:
Non-commercial personal homepage or blog.
Institutional webpage.
Authors Institutional Repository.Â
The following notice should accompany such a posting on the website: "This is an electronic version of an article published in SAHJ, Volume XXX, number XXX, pages XXX–XXX", DOI. Authors should also supply a hyperlink to the original paper or indicate where the original paper (http://www.journals.ac.za/index.php/SAHJ) may be found.Â
Authors publishers version, affiliated with the Stellenbosch University will be automatically deposited in the University's' Institutional Repository SUNScholar.
Articles as a whole, may not be re-published with another journal.
Copyright Holder: SA Heart Journal
The following license applies:
Attribution CC BY-NC-ND 4.0