Lipid profiles of patients presenting with acute myocardial infarction in a South African regional hospital
A. Sirkar

Division of Internal Medicine School of Clinical Medicine College of Health Sciences University of KwaZulu-Natal

D. Sadhabiriss

Division of Internal Medicine School of Clinical Medicine College of Health Sciences University of KwaZulu-Natal

S.L. Brown

Division of Internal Medicine School of Clinical Medicine College of Health Sciences University of KwaZulu-Natal
Abstract
Background: Cardiovascular disease is an important cause of morbidity and mortality in South Africa and hyperlipidaemia is a major contributing modifiable risk factor.
Objectives: To describe the lipid profiles of patients with acute myocardial infarction and to compare values with recommended target levels outlined in the South African Dyslipidaemia Guideline Consensus Statement.
Methods: We performed a retrospective chart review of patients admitted with a diagnosis of acute myocardial infarction to a regional hospital in Durban, South Africa, between 1 January and 31 December 2016. Patients had a non-fasting lipogram taken within the first 24 hours of admission.
Results: We enrolled 126 subjects. The mean age was 57.6 (SD ± 9.4) years. One hundred and ten subjects (87.3%) met criteria for hyperlipidaemia. Previous statin
therapy was associated with lower LDL-cholesterol values (3.43mmol/L vs. 4.03mmol/L, p=0.02), but only 9 (11.2%) of the 80 subjects on therapy (88.8%) fell below the levels recommended for their risk category by the South African Dyslipidaemia Guideline Consensus Statement. Overall, 23 subjects (18.3% of the entire study group) demonstrated LDL-C values at presentation that were below the recommended values.
Conclusions: A high proportion of subjects presenting with acute myocardial infarction show evidence of suboptimal control of pre-existing hyperlipidaemia.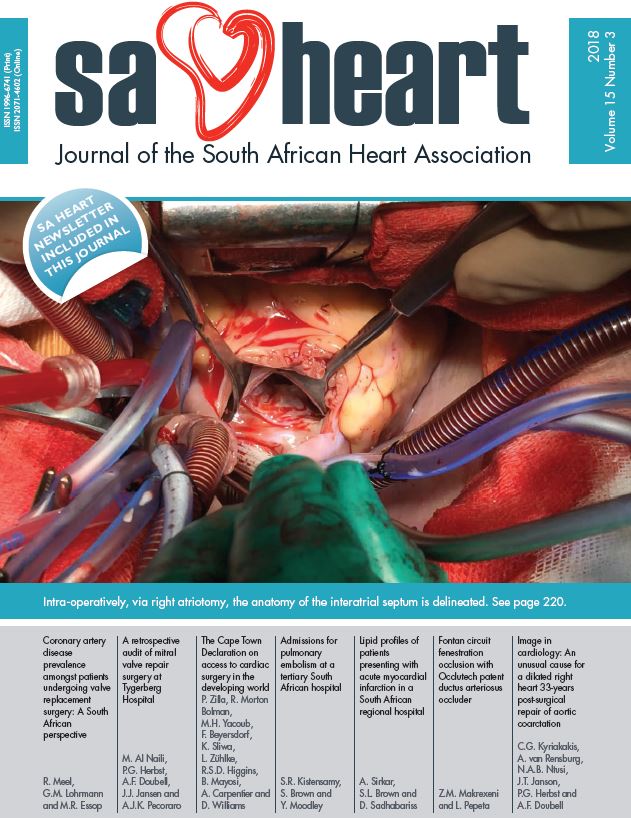 Copyright (c) 2018 SA Heart Journal
This work is licensed under a Creative Commons Attribution-NonCommercial-NoDerivatives 4.0 International License.
This journal is an open access journal, and the authors and journal should be properly acknowledged, when works are cited.
Authors may use the publishers version for teaching purposes, in books, theses, dissertations, conferences and conference papers.Â
A copy of the authors' publishers version may also be hosted on the following websites:
Non-commercial personal homepage or blog.
Institutional webpage.
Authors Institutional Repository.Â
The following notice should accompany such a posting on the website: "This is an electronic version of an article published in SAHJ, Volume XXX, number XXX, pages XXX–XXX", DOI. Authors should also supply a hyperlink to the original paper or indicate where the original paper (http://www.journals.ac.za/index.php/SAHJ) may be found.Â
Authors publishers version, affiliated with the Stellenbosch University will be automatically deposited in the University's' Institutional Repository SUNScholar.
Articles as a whole, may not be re-published with another journal.
Copyright Holder: SA Heart Journal
The following license applies:
Attribution CC BY-NC-ND 4.0