Admissions for pulmonary embolism at a tertiary South African hospital
Sivaisen Ricardo Kirstensamy

Department of Internal Medicine Nelson R. Mandela School of Medicine University of KwaZulu-Natal

Susan Brown

Department of Internal Medicine Nelson R. Mandela School of Medicine University of KwaZulu-Natal

Yoshan Moodley

Department of Anaesthetics Nelson R. Mandela School of Medicine University of KwaZulu-Natal
Abstract
Background: Published reports of pulmonary embolism (PE) from South African (SA) settings are rare. We sought to address this paucity in the literature.
Methods: This case series (CS) involved 61 adult patients admitted to a tertiary SA hospital over a five-year period with a primary diagnosis of PE. Data related to patient demographics, PE presentation, risk factors, treatment, and inpatient mortality were collected, and then analysed using descriptive statistics.
Results: Most of our CS were aged <65 years (86.9%), female (67.2%), and of black African ethnicity (73.8%). Dyspnoea and chest pain were the most common symptoms (86.9% and 41.0%, respectively). Common clinical signs included tachypnea (47.5%) and tachycardia (42.6%). Common established risk factors were cardiac failure (49.2%) and obesity (27.9%). Massive, submassive, and minor PE, was diagnosed in 8.2%, 62.3%, and 8.2% of patients, respectively. Most patients received anticoagulation therapy (95.1%), with thrombolysis and embolectomy performed only in smaller proportions (24.6% and 11.5%) of patients. Inpatient mortality was 23.0%. Most patients who died had submassive PE.
Conclusion: We provide a report of PE cases from a SA setting. Our findings have important implications related to the management of PE in SA.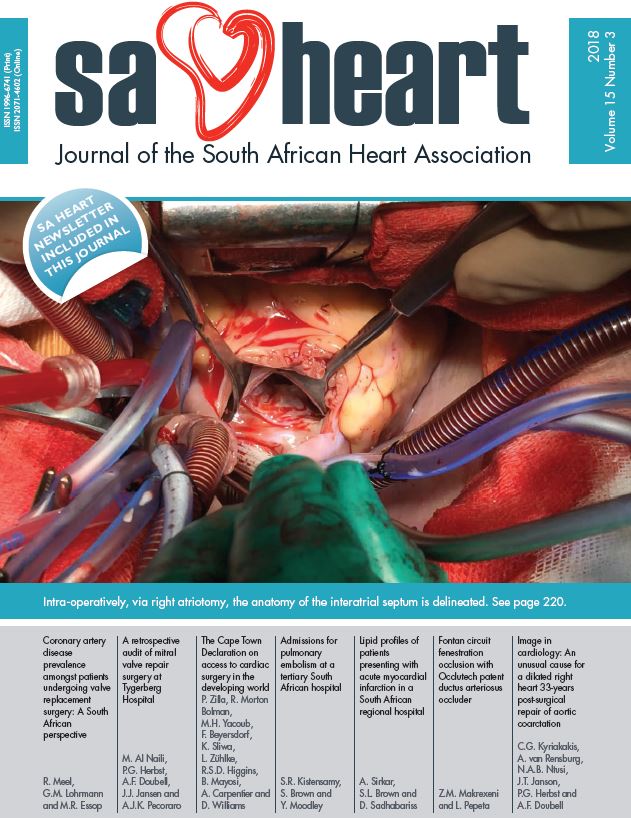 Copyright (c) 2018 SA Heart Journal
This work is licensed under a Creative Commons Attribution-NonCommercial-NoDerivatives 4.0 International License.
This journal is an open access journal, and the authors and journal should be properly acknowledged, when works are cited.
Authors may use the publishers version for teaching purposes, in books, theses, dissertations, conferences and conference papers.Â
A copy of the authors' publishers version may also be hosted on the following websites:
Non-commercial personal homepage or blog.
Institutional webpage.
Authors Institutional Repository.Â
The following notice should accompany such a posting on the website: "This is an electronic version of an article published in SAHJ, Volume XXX, number XXX, pages XXX–XXX", DOI. Authors should also supply a hyperlink to the original paper or indicate where the original paper (http://www.journals.ac.za/index.php/SAHJ) may be found.Â
Authors publishers version, affiliated with the Stellenbosch University will be automatically deposited in the University's' Institutional Repository SUNScholar.
Articles as a whole, may not be re-published with another journal.
Copyright Holder: SA Heart Journal
The following license applies:
Attribution CC BY-NC-ND 4.0