Long term outcome and EuroSCORE II validation in native valve surgery for active infective endocarditis in a South African cohort
Jithan Koshy

Christian Barnard Division of Cardiothoracic Surgery University of Cape Town

M Engel

Christian Barnard Division of Cardiothoracic Surgery University of Cape Town

H Carrara

Christian Barnard Division of Cardiothoracic Surgery University of Cape Town

J Brink

Christian Barnard Division of Cardiothoracic Surgery University of Cape Town

P Zilla

Christian Barnard Division of Cardiothoracic Surgery University of Cape Town
Abstract
Objectives: To evaluate the major risk factors for adverse short and long term outcomes in patients with active native valve infective endocarditis needing cardiac surgery and to validate the EuroSCORE II in our cohort of patients.
Methods: We retrospectively studied 149 patients who underwent native valve surgery for infective endocarditis in June 2000 - May 2011 at our referral centre. Ninety-six patients met the inclusion criteria for the study: 29 aortic valve replacements (AVR), 27 mitral valve replacements (MVR), 28 aortic/mitral (double) valve replacements (DVR) and 12 mitral valve repairs (MV Repair).
Results: Mechanical valves were implanted in 68 patients (70.8%), bioprosthetic valves in 16 (16.7%) and mitral annuloplasty rings in 12 (12.5%). The Cox proportional hazard model showed that the most important risk factors for early 30-day mortality were: critical preoperative state, emergency surgery, EuroSCORE II >12%, low cardiac output state (LCOS), HIV positive status, preoperative embolic episodes, vegetation size >1cm and postoperative ventilation >24 hours. The EuroSCORE II underestimated early mortality for the entire cohort. The discriminatory ability was evaluated with the receiver operating characteristic (ROC) curve with an area under the curve of 0.796. The discriminatory ability in the subgroup analysis showed that the AUROC curve was poorer for MVR (0.696), 0.837 for DVR and better for AVR group (0.92).
Conclusions: The EuroSCORE II underestimated mortality in the highest risk groups and overestimated mortality in the lowest risk groups. The discriminatory ability and model fit were evaluated to be good and a EuroSCORE II >12% predicted a signifi cantly higher early and medium term mortality.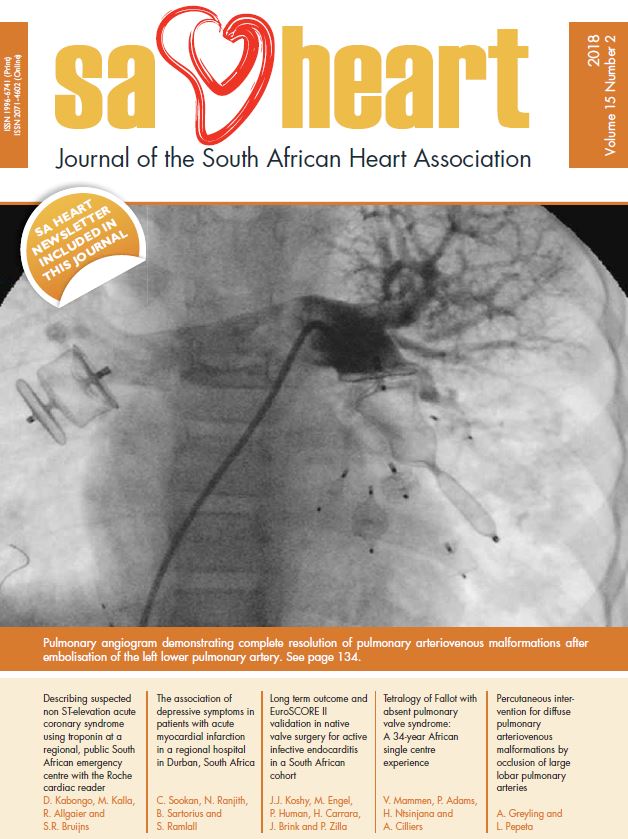 Copyright (c) 2018 SA Heart Journal
This work is licensed under a Creative Commons Attribution-NonCommercial-NoDerivatives 4.0 International License.
This journal is an open access journal, and the authors and journal should be properly acknowledged, when works are cited.
Authors may use the publishers version for teaching purposes, in books, theses, dissertations, conferences and conference papers.Â
A copy of the authors' publishers version may also be hosted on the following websites:
Non-commercial personal homepage or blog.
Institutional webpage.
Authors Institutional Repository.Â
The following notice should accompany such a posting on the website: "This is an electronic version of an article published in SAHJ, Volume XXX, number XXX, pages XXX–XXX", DOI. Authors should also supply a hyperlink to the original paper or indicate where the original paper (http://www.journals.ac.za/index.php/SAHJ) may be found.Â
Authors publishers version, affiliated with the Stellenbosch University will be automatically deposited in the University's' Institutional Repository SUNScholar.
Articles as a whole, may not be re-published with another journal.
Copyright Holder: SA Heart Journal
The following license applies:
Attribution CC BY-NC-ND 4.0