Describing suspected non ST-elevation acute coronary syndrome using troponin at a regional, public South African emergency centre with the Roche cardiac reader
Diulu Kabongo

Division of Emergency Medicine Stellenbosch University and Tygerberg Hospital

Moosa Kalla

Emergency Department Mitchell's Plain Hospital

Rachel Allgaier

Division of Emergency Medicine Stellenbosch University and Tygerberg Hospital

Stevan Bruijns

Division of Emergency Medicine Stellenbosch University and Tygerberg Hospital
Abstract
Background: There are few data available regarding acute coronary syndrome presenting to emergency centres in sub-Saharan Africa compared to the rest of the world. The aim of this study was to describe the acute coronary syndrome diagnosis and its outcome in an undifferentiated chest pain population when using a troponin assay that predates current reference standards at a public, Cape Town emergency centre.
Methods: A retrospective, cross-sectional design was used. Comparisons were made between the diagnosis, outcome and troponin result (using the Roche cardiac reader). Findings were descriptively presented. Troponin results were qualitatively described in relation to a non ST-elevation acute coronary syndrome diagnosis. Associations were tested using the Chi2-test.
Results: Nine hundred and sixty-nine patients were included in the study, of which 40 patients (4%) were excluded due to poor clinical record keeping. Acute coronary syndrome was diagnosed in 256 patients (28%), from which 54 (21%) were troponin positive which differed to troponin negative acute coronary syndrome (p <0.001). Unstable angina was diagnosed in 197 (77%) of acute coronary syndrome patients.
Conclusions: Unsurprisingly, a high proportion of chest pain patients did not have acute coronary syndrome. Unstable angina numbers were much higher than described elsewhere. Although it is not possible to relate this finding to the assay's lower accuracy using only a descriptive design, a higher sensitivity assay would likely benefit the diagnostic process as it does elsewhere. Further research is required to explore safe, local diagnostic strategies that can strike a balance between patient safety and cost effectiveness.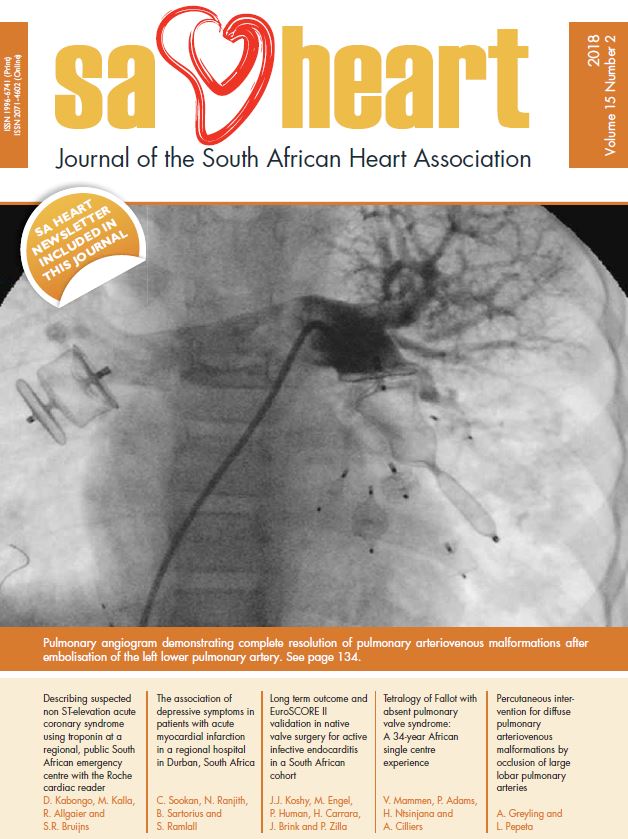 Copyright (c) 2018 SA Heart Journal
This work is licensed under a Creative Commons Attribution-NonCommercial-NoDerivatives 4.0 International License.
This journal is an open access journal, and the authors and journal should be properly acknowledged, when works are cited.
Authors may use the publishers version for teaching purposes, in books, theses, dissertations, conferences and conference papers.Â
A copy of the authors' publishers version may also be hosted on the following websites:
Non-commercial personal homepage or blog.
Institutional webpage.
Authors Institutional Repository.Â
The following notice should accompany such a posting on the website: "This is an electronic version of an article published in SAHJ, Volume XXX, number XXX, pages XXX–XXX", DOI. Authors should also supply a hyperlink to the original paper or indicate where the original paper (http://www.journals.ac.za/index.php/SAHJ) may be found.Â
Authors publishers version, affiliated with the Stellenbosch University will be automatically deposited in the University's' Institutional Repository SUNScholar.
Articles as a whole, may not be re-published with another journal.
Copyright Holder: SA Heart Journal
The following license applies:
Attribution CC BY-NC-ND 4.0