Effect of cardiac surgery in young children with congenital heart disease on parenting stress in central South Africa: Initial outcomes
Robyn Smith

Department of Physiotherapy University of the Free State

J Potterton

Department of Physiotherapy, University of the Witwatersrand, Johannesburg

V Ntsiea

Department of Physiotherapy, University of the Witwatersrand, Johannesburg

S C Brown

Department of Paediatric Cardiology, University of the Free State
Abstract
Introduction and aim: Parents of children with congenital heart disease (CHD) are at increased risk of ongoing stress and psychological morbidity. The aim of this study was to determine stress in parents of children with CHD who underwent cardiac surgery. The levels of stress experienced by parents of children with CHD in South Africa are unknown. Reported parenting stress outcomes in children with CHD in developed countries are conflicting.
Materials and methods: Forty-eight consecutive children, 30 months and younger, and their parents were recruited into this observational descriptive study. Parenting stress was assessed using the Parenting Stress Index Short Form. Parenting stress outcomes were compared over time, and variables associated with parenting stress determined at baseline, three-month and six-month post-cardiac surgery.
Sociodemographic information including maternal age, parental educational attainment and occupational status were collected using a self-developed questionnaire. Medical severity of the cardiac disease was rated according to the Cardiologists Perception of Medical Severity Scale. Socio-economic status was determined using Hollingshead's Index of Social Position and developmental status was assessed using the Bayley Scales of Infant and Toddler Development, Third Edition.
Results: Baseline data was collected for 40 parents. Sixty percent of parents (n=24) experienced clinically significant stress prior to cardiac surgery. Levels of parenting stress were significantly decreased at both three-month (p<0.001) and six-month post-cardiac surgery (p<0.001). However, just more than a third of parents experienced ongoing stress. There was a significant association between neurodevelopmental outcome (p=0.03), perceived health-related quality of life (p=0.02), age at first cardiac surgery (p=0.03) and maternal age (p=0.04) and levels of parenting stress.
Conclusion: The findings of this study showed that most parents experienced clinically significant levels of stress prior to cardiac surgery in their children. Parenting stress declined significantly post-cardiac surgery, but a considerable number of parents experienced ongoing stress. In conclusion, parents of children with CHD should be screened regularly for risk of psychosocial problems requiring referral for treatment.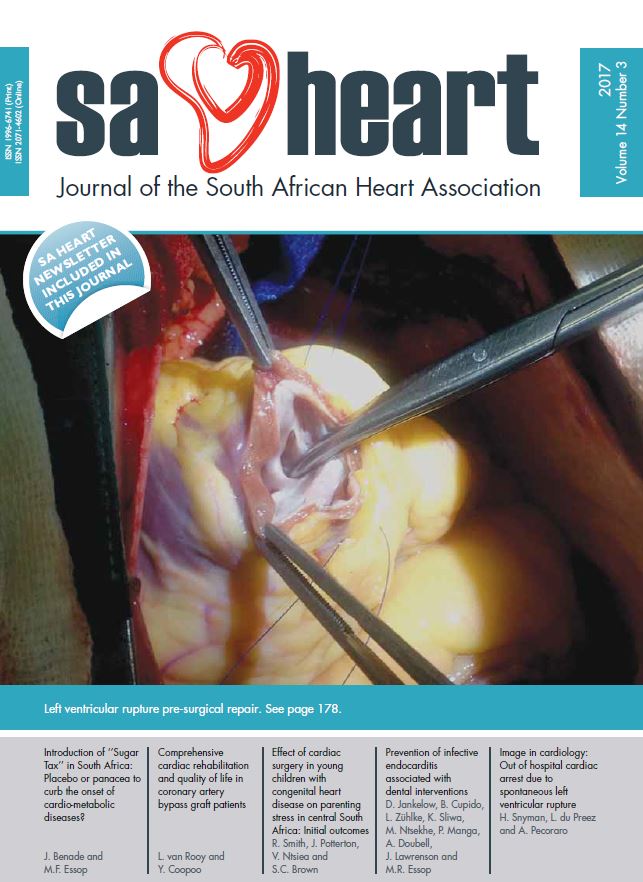 Copyright (c) 2017 SA Heart Journal
This work is licensed under a Creative Commons Attribution-NonCommercial-NoDerivatives 4.0 International License.
This journal is an open access journal, and the authors and journal should be properly acknowledged, when works are cited.
Authors may use the publishers version for teaching purposes, in books, theses, dissertations, conferences and conference papers.Â
A copy of the authors' publishers version may also be hosted on the following websites:
Non-commercial personal homepage or blog.
Institutional webpage.
Authors Institutional Repository.Â
The following notice should accompany such a posting on the website: "This is an electronic version of an article published in SAHJ, Volume XXX, number XXX, pages XXX–XXX", DOI. Authors should also supply a hyperlink to the original paper or indicate where the original paper (http://www.journals.ac.za/index.php/SAHJ) may be found.Â
Authors publishers version, affiliated with the Stellenbosch University will be automatically deposited in the University's' Institutional Repository SUNScholar.
Articles as a whole, may not be re-published with another journal.
Copyright Holder: SA Heart Journal
The following license applies:
Attribution CC BY-NC-ND 4.0