Comprehensive cardiac rehabilitation and quality of life in coronary artery bypass graft patients
Lynn Van Rooy

Department of Sport and Movement Studies Faculty of Health Sciences University of Johannesburg

Y Coopoo

Department of Sport and Movement Studies Faculty of Health Sciences University of Johannesburg
Abstract
The overall success of coronary artery bypass graft (CABG) surgery is much dependent on the postoperative rehabilitation. Cardiac rehabilitation (CR) programmes should be comprehensive and multifactorial to enhance the education and quality of life of the patient.
This was a quasi-experimental and longitudinal intervention study to which 18 patients who had undergone CABG surgery were referred. Two questionnaires were administered and patients participated in a 12-week exercise programme.
Significant improvements were noted in waist circumference (99.7 ± 8.3 to 97.8 ± 8.8; p=0.042), body fat percentage (22.7 ± 5.3% to 20.5 ± 4.9%; p=0.000), resting systolic blood pressure (125.7 ± 13.7mmHg to 119.7 ± 8.9mmHg; p=0.000), stairs climbed (3.6 ± 3.5 flights to 5.9 ± 4.4 flights; p=0.003), duration of exercise per week (329 ± 383.7min.wk-1 to 527 ± 482.7min.wk-1; p=0.001), kilocalories expended per session (827 ± 765kcal to 1173 ± 699kcal; p=0.001), kilocalories expended per week (2 550 ± 858kcal to 3 996 ± 1 849kcal; p=0.000), chair sit-and-reach (0.7 ± 3.4cm to 1.3 ± 3.4cm; p=0.001), up and go (6.0 ± 1.3sec to 5.1 ± 1.2sec; p=0.002), chair stand (13.4 ± 2.3 to 16.2 ± 2.3; p=0.000), maximum workload (82 ± 23.0 watt to 110 ± 29.4 watt; p=0.000), maximum duration (08:35 ± 02:41min:sec to 11:57 ± 03:51min:sec; p=0.000), physical component score (38.8 ± 6.1 to 52.1 ± 4.2; p=0.000) and mental component score (49.5 ± 8.5 to 56.9 ± 3.1; p=0.002).
The findings of this study support the role of CR encompassing lifestyle intervention, education and psychological support in promoting a faster recovery of health and desired performance of the CABG patient.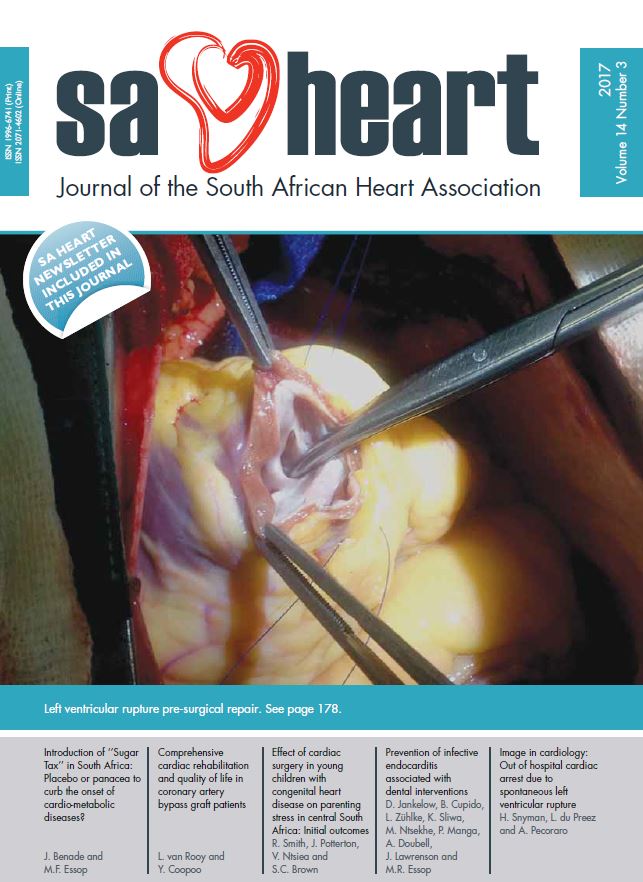 Copyright (c) 2017 SA Heart Journal
This work is licensed under a Creative Commons Attribution-NonCommercial-NoDerivatives 4.0 International License.
This journal is an open access journal, and the authors and journal should be properly acknowledged, when works are cited.
Authors may use the publishers version for teaching purposes, in books, theses, dissertations, conferences and conference papers.Â
A copy of the authors' publishers version may also be hosted on the following websites:
Non-commercial personal homepage or blog.
Institutional webpage.
Authors Institutional Repository.Â
The following notice should accompany such a posting on the website: "This is an electronic version of an article published in SAHJ, Volume XXX, number XXX, pages XXX–XXX", DOI. Authors should also supply a hyperlink to the original paper or indicate where the original paper (http://www.journals.ac.za/index.php/SAHJ) may be found.Â
Authors publishers version, affiliated with the Stellenbosch University will be automatically deposited in the University's' Institutional Repository SUNScholar.
Articles as a whole, may not be re-published with another journal.
Copyright Holder: SA Heart Journal
The following license applies:
Attribution CC BY-NC-ND 4.0