Bicuspid aortic valve disease
James Lee

Division of Cardiology University of Washington Seattle

Catherine Otto

Division of Cardiology University of Washington Seattle
Abstract
The prevalence of bicuspid aortic valve (BAV) disease is 0.5 - 2% of the population with a 3:1 male predominance. The genetic basis remains unknown although 9% of families have more than one affected individual. Life expectancy in patients with BAV is similar to the general population with a 10-year survival of over 95%. Adverse outcomes are most often due to aortic stenosis late in life, aortic regurgitation in young adulthood or endocarditis in a small number of patients. The BAV syndrome is also associated with an aortopathy characterised by aortic dilation and an increased risk of aortic dissection. Clinical management of patients with a BAV focuses on periodic evaluation of valve function and aortic size, patient education about the expected disease course, prevention of endocarditis and optimal timing of aortic valve replacement for stenosis and/or regurgitation; with concurrent root replacement if aortic dilation (>4.5cm diameter) is present. In addition, aortic root replacement is recommended if aortic diameter exceeds 5.5cm, even if aortic valve function remains normal.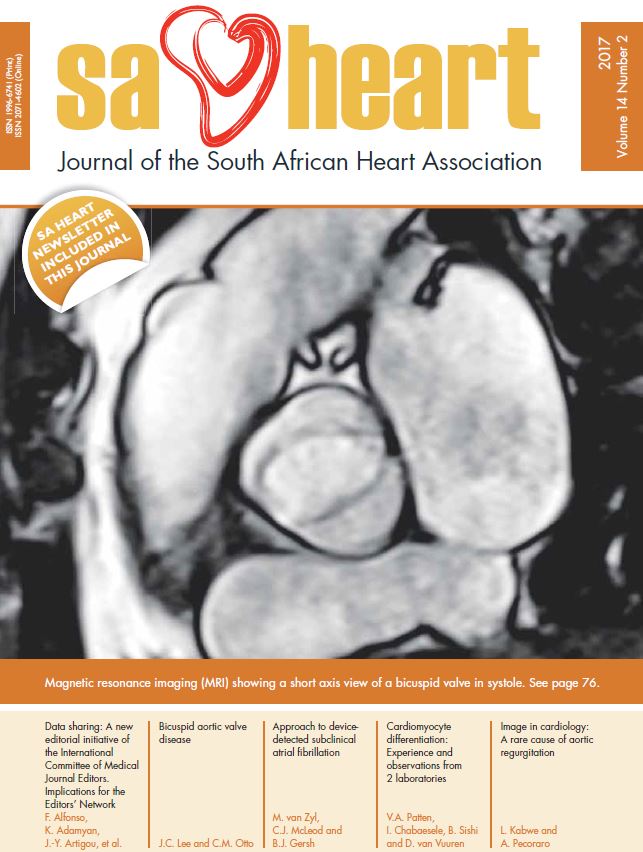 Copyright (c) 2017 SA Heart Journal
This work is licensed under a Creative Commons Attribution-NonCommercial-NoDerivatives 4.0 International License.
This journal is an open access journal, and the authors and journal should be properly acknowledged, when works are cited.
Authors may use the publishers version for teaching purposes, in books, theses, dissertations, conferences and conference papers.Â
A copy of the authors' publishers version may also be hosted on the following websites:
Non-commercial personal homepage or blog.
Institutional webpage.
Authors Institutional Repository.Â
The following notice should accompany such a posting on the website: "This is an electronic version of an article published in SAHJ, Volume XXX, number XXX, pages XXX–XXX", DOI. Authors should also supply a hyperlink to the original paper or indicate where the original paper (http://www.journals.ac.za/index.php/SAHJ) may be found.Â
Authors publishers version, affiliated with the Stellenbosch University will be automatically deposited in the University's' Institutional Repository SUNScholar.
Articles as a whole, may not be re-published with another journal.
Copyright Holder: SA Heart Journal
The following license applies:
Attribution CC BY-NC-ND 4.0