Fenofibrate protects endothelial cells against the harmful effects of TNF-alpha
Corli Westcott

Division of Medical Physiology Faculty of Medicine & Health Sciences Stellenbosch University

Amanda Genis

Division of Medical Physiology Faculty of Medicine & Health Sciences Stellenbosch University

Mashudu Mthethwa

Division of Medical Physiology Faculty of Medicine & Health Sciences Stellenbosch University

Roxanne Graham

Division of Medical Physiology Faculty of Medicine & Health Sciences Stellenbosch University

Derick van Vuuren

Division of Medical Physiology Faculty of Medicine & Health Sciences Stellenbosch University

Barbara Huisamen

Division of Medical Physiology Faculty of Medicine & Health Sciences Stellenbosch University

Hans Strijdom

Division of Medical Physiology Faculty of Medicine & Health Sciences Stellenbosch University
Abstract
Introduction: Fenofibrate exerts pleiotropic effects on endothelial cells (ECs) by, amongst others, increasing nitric oxide (NO) production. We aimed to investigate fenofi brate's putative beneficial actions in healthy or TNF-alpha-induced dysfunctional ECs.
Methods: Fenofi brate-induced pro-vasodilatory responses were assessed in aortic rings (50 - 125μM; 30min) with and without L-NMMA (100μM). Rat cardiac microvascular ECs were treated with fenofibrate (30 and 50μM; 1h). In the pre-treatment experiments, fenofibrate (50μM) was administered one hour before TNFalpha treatment (20ng/ml; 24h). NO-production (DAF-2/DA or Griess assay), mitochondrial ROS-production (MitoSox™), cell viability (propidium iodide staining), and changes in the expression/phosphorylation of critical endothelial proteins were measured by Western blotting.
Results: Fenofibrate increased NO-production ˜2-fold in healthy ECs (p<0.05 vs. vehicle). A ˜23% pro-vasodilatory response was induced in aortic rings, which was reversed by L-NMMA (p<0.05 vs. fenofibrate). Fenofibrate pretreatment ameliorated TNF-alpha-induced endothelial dysfunction by reversing the loss of NO, improving oxidative stress, restoring cell viability and preventing caspase-3 activation. Protective effects were underpinned by ˜47% and ˜49% up-regulation of activated eNOS and AMP-kinase, respectively (p<0.05 vs. TNFalpha).
Conclusions: Fenofibrate protects TNF-alpha-induced dysfunctional ECs via up-regulated eNOS-NO, reduced oxidative stress and improved cell viability. These novel findings warrant further investigations to explore the potential use of fenofibrate as an anti-endothelial dysfunction therapeutic agent.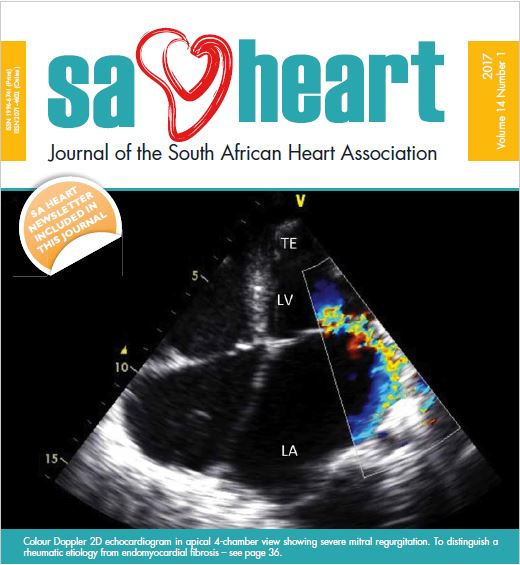 Copyright (c) 2017 SA Heart Journal
This work is licensed under a Creative Commons Attribution-NonCommercial-NoDerivatives 4.0 International License.
This journal is an open access journal, and the authors and journal should be properly acknowledged, when works are cited.
Authors may use the publishers version for teaching purposes, in books, theses, dissertations, conferences and conference papers.Â
A copy of the authors' publishers version may also be hosted on the following websites:
Non-commercial personal homepage or blog.
Institutional webpage.
Authors Institutional Repository.Â
The following notice should accompany such a posting on the website: "This is an electronic version of an article published in SAHJ, Volume XXX, number XXX, pages XXX–XXX", DOI. Authors should also supply a hyperlink to the original paper or indicate where the original paper (http://www.journals.ac.za/index.php/SAHJ) may be found.Â
Authors publishers version, affiliated with the Stellenbosch University will be automatically deposited in the University's' Institutional Repository SUNScholar.
Articles as a whole, may not be re-published with another journal.
Copyright Holder: SA Heart Journal
The following license applies:
Attribution CC BY-NC-ND 4.0