Pacing for complete heart block in pregnancy
Charle Viljoen

Julian Hoevelmann

Karen Sliwa

Ashley Chin
Abstract
Whereas sinus tachycardia and paroxysmal supraventricular tachycardia are common during pregnancy, bradyarrhythmias are infrequent. Moreover, bradyarrhythmias are generally well tolerated during pregnancy. Nevertheless, a 12-lead ECG is indicated for pregnant women who present with bradycardia, to rule out sinoatrial (SA) node dysfunction or AV conduction abnormalities. Third-degree AV block (complete heart block, CHB) requires multidisciplinary care during pregnancy, with combined input from Cardiologists and Obstetricians. As CHB is associated with increased mortality and morbidity if left untreated, permanent pacing is usually indicated during pregnancy, even if the patient remains asymptomatic. However, not all pregnant patients with CHB require urgent pacing. In a pregnant patient who has CHB with an escape rhythm with narrow QRS complexes and rate of >50bpm, permanent pacemaker implantation can be delayed until after delivery, as described in this case report.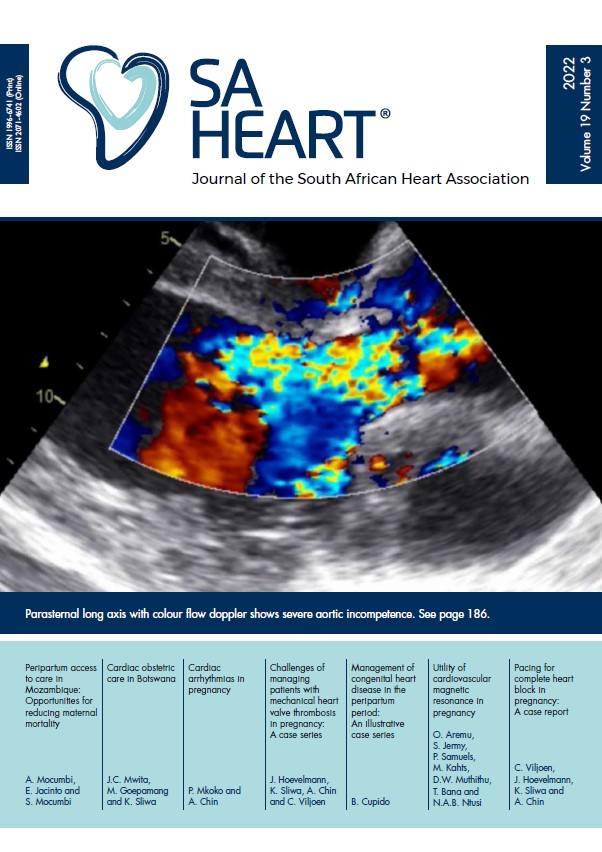 Copyright (c) 2022 SA Heart Journal
This work is licensed under a Creative Commons Attribution-NonCommercial-NoDerivatives 4.0 International License.
This journal is an open access journal, and the authors and journal should be properly acknowledged, when works are cited.
Authors may use the publishers version for teaching purposes, in books, theses, dissertations, conferences and conference papers.Â
A copy of the authors' publishers version may also be hosted on the following websites:
Non-commercial personal homepage or blog.
Institutional webpage.
Authors Institutional Repository.Â
The following notice should accompany such a posting on the website: "This is an electronic version of an article published in SAHJ, Volume XXX, number XXX, pages XXX–XXX", DOI. Authors should also supply a hyperlink to the original paper or indicate where the original paper (http://www.journals.ac.za/index.php/SAHJ) may be found.Â
Authors publishers version, affiliated with the Stellenbosch University will be automatically deposited in the University's' Institutional Repository SUNScholar.
Articles as a whole, may not be re-published with another journal.
Copyright Holder: SA Heart Journal
The following license applies:
Attribution CC BY-NC-ND 4.0