Management of congenital heart disease in the peripartum period: An illustrative case series
Abstract
More women with complex congenital heart disease (CHD) reach adulthood resulting in a cohort of patients who are at high risk for adverse events during pregnancy. The haemodynamic changes usual to pregnancy may be poorly tolerated in patients with poor systemic ventricular function, cyanosis, left-sided obstructive lesions and pulmonary hypertension. Complex CHD patients are best managed by a multi-disciplinary team at a high-risk centre. Pre-conception counselling aims at risk stratifying by means of a clinical evaluation, electrocardiogram and echocardiography. Echocardiography plays a vital role in delineating the initial lesions and residual lesions with its haemodynamic complications. The modified WHO (mWHO) classification provides a helpful tool to stratify anatomical and physiological lesions by maternal and foetal event rates and is recommended by the European Society of Cardiology (ESC). Patients with cyanosis, severe aortopathy and severe pulmonary hypertension fall into Class IV and termination of pregnancy is advised.
Patients may however choose to continue their pregnancy. We present 3 such cases of complex CHD (Fontan circulation, severe aortopathy and severe pulmonary hypertension) and illustrate some pertinent management principles in the peripartum period.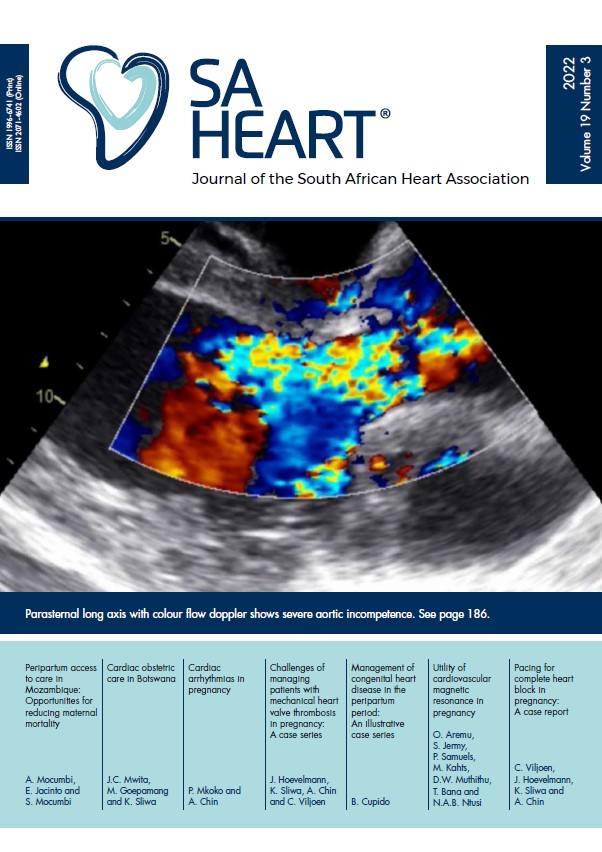 Copyright (c) 2022 SA Heart Journal
This work is licensed under a Creative Commons Attribution-NonCommercial-NoDerivatives 4.0 International License.
This journal is an open access journal, and the authors and journal should be properly acknowledged, when works are cited.
Authors may use the publishers version for teaching purposes, in books, theses, dissertations, conferences and conference papers.Â
A copy of the authors' publishers version may also be hosted on the following websites:
Non-commercial personal homepage or blog.
Institutional webpage.
Authors Institutional Repository.Â
The following notice should accompany such a posting on the website: "This is an electronic version of an article published in SAHJ, Volume XXX, number XXX, pages XXX–XXX", DOI. Authors should also supply a hyperlink to the original paper or indicate where the original paper (http://www.journals.ac.za/index.php/SAHJ) may be found.Â
Authors publishers version, affiliated with the Stellenbosch University will be automatically deposited in the University's' Institutional Repository SUNScholar.
Articles as a whole, may not be re-published with another journal.
Copyright Holder: SA Heart Journal
The following license applies:
Attribution CC BY-NC-ND 4.0