Challenges of managing patients with mechanical heart valve thrombosis in pregnancy: A case series
Julian Hoevelmann

Karen Sliwa

Ashley Chin

Charle Viljoen
Abstract
Mechanical valve thrombosis is a feared complication in pregnant women with mechanical heart valves (MHV). It is associated with a high maternal and foetal morbidity and mortality. Optimal anticoagulation strategies for pregnant women with MHV remain controversial. Vitamin K antagonists (VKA) are the most effective treatment regimen to prevent valve thrombosis and are therefore considered the safest treatment for the mother. However, VKAs increase the risk of embryopathy, foetopathy, foetal haemorrhage and foetal loss. A particular challenge is to balance the need for adequate anticoagulation for MHV during pregnancy against the risk of bleeding, teratogenicity and fetotoxicity. In this case series, we describe complexity of the management of anticoagulation in pregnant patients with MHV, and describe 2 treatment approaches in patients with MHV thrombosis. Our case series high-lights that anticoagulation strategy should be individualised, and that best management is provided by a multidisciplinary cardio-obstetric team.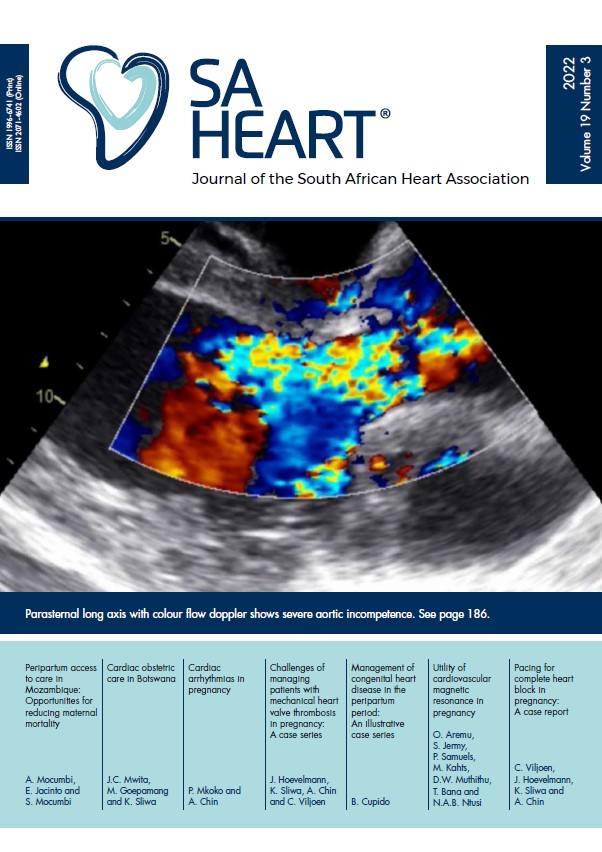 Copyright (c) 2022 SA Heart Journal
This work is licensed under a Creative Commons Attribution-NonCommercial-NoDerivatives 4.0 International License.
This journal is an open access journal, and the authors and journal should be properly acknowledged, when works are cited.
Authors may use the publishers version for teaching purposes, in books, theses, dissertations, conferences and conference papers.Â
A copy of the authors' publishers version may also be hosted on the following websites:
Non-commercial personal homepage or blog.
Institutional webpage.
Authors Institutional Repository.Â
The following notice should accompany such a posting on the website: "This is an electronic version of an article published in SAHJ, Volume XXX, number XXX, pages XXX–XXX", DOI. Authors should also supply a hyperlink to the original paper or indicate where the original paper (http://www.journals.ac.za/index.php/SAHJ) may be found.Â
Authors publishers version, affiliated with the Stellenbosch University will be automatically deposited in the University's' Institutional Repository SUNScholar.
Articles as a whole, may not be re-published with another journal.
Copyright Holder: SA Heart Journal
The following license applies:
Attribution CC BY-NC-ND 4.0