Cardiac arrhythmias in pregnancy
Philasande Mkoko

Ashley Chin
Abstract
Cardiac arrhythmias are common in pregnancy. The approach to the diagnosis of arrhythmias in pregnancy requires a detailed clinical history and examination and documentation of the arrhythmia preferably on a Holter or electrocardiogram. Treatment of arrhythmias is arrhythmia specific and may require antiarrhythmic drug therapy. However, the risks and benefits of antiarrhythmic drugs must be carefully considered. Catheter ablation remains a treatment option but is seldom required during pregnancy.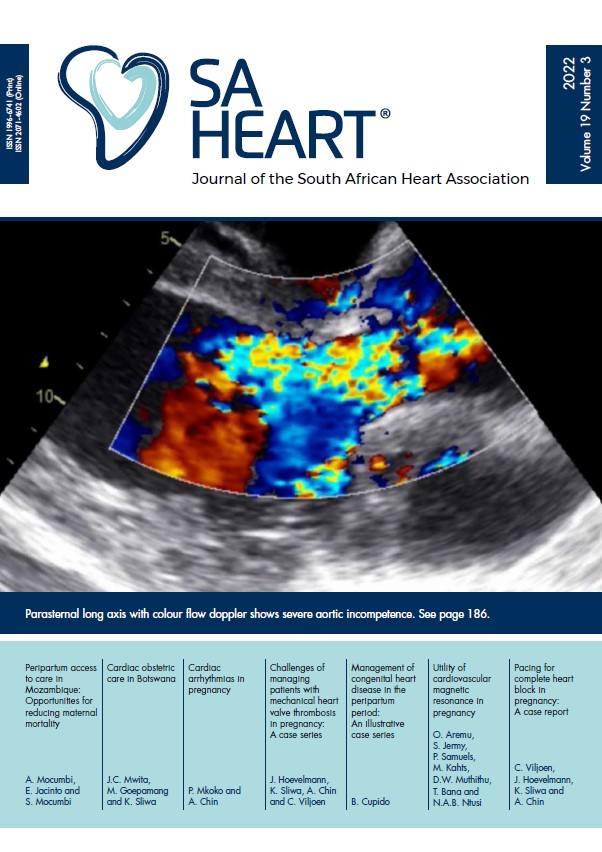 Copyright (c) 2022 SA Heart Journal
This work is licensed under a Creative Commons Attribution-NonCommercial-NoDerivatives 4.0 International License.
This journal is an open access journal, and the authors and journal should be properly acknowledged, when works are cited.
Authors may use the publishers version for teaching purposes, in books, theses, dissertations, conferences and conference papers.Â
A copy of the authors' publishers version may also be hosted on the following websites:
Non-commercial personal homepage or blog.
Institutional webpage.
Authors Institutional Repository.Â
The following notice should accompany such a posting on the website: "This is an electronic version of an article published in SAHJ, Volume XXX, number XXX, pages XXX–XXX", DOI. Authors should also supply a hyperlink to the original paper or indicate where the original paper (http://www.journals.ac.za/index.php/SAHJ) may be found.Â
Authors publishers version, affiliated with the Stellenbosch University will be automatically deposited in the University's' Institutional Repository SUNScholar.
Articles as a whole, may not be re-published with another journal.
Copyright Holder: SA Heart Journal
The following license applies:
Attribution CC BY-NC-ND 4.0