A proposed definition of Critical Care Retrieval in the South African context
Cornelius Venter

Division of Emergency Medicine, University of Cape Town, Cape Town, South Africa

Nathan Conradie

Division of Emergency Medicine, University of Cape Town, Cape Town, South Africa

Monique Venter

Netcare 911, South Africa

Louis Jordaan

Department of Emergency Medical Care, Cape Peninsula University of Technology, Cape Town, South Africa

Maryna Venter

Critical Care Retrieval Services, ER24, Johannesburg, South Africa

David Stanton

Netcare 911, South Africa

Willem Stassen

Division of Emergency Medicine, University of Cape Town

http://orcid.org/0000-0002-1486-4446
Abstract
Background: Critical care retrieval is a nascent field in South Africa. An increasing number of private and provincial emergency medical services are starting to invest in developing and setting up dedicated critical care retrieval services (CCRS). To date, there are no minimum standards or definitions on what constitutes a CCRS in the South African context. The aim of this paper is to describe the development of and propose a consensus definition of CCRS within the South African context. Methods: A literature search was performed to determine the key aspects of CCRS definitions elsewhere. An initial draft definition was circulated to the CCRS working group of the Emergency Care Society of South Africa (ECSSA) for commentary. Comments were collated, and a second round of commentary was undertaken. Finally, a consensus meeting was held through video-conferencing to finalise the definition presented herein. Thereafter, the definition was circulated to key role-players in emergency and critical care, both locally and internationally, for endorsement. The definition, as it is presented, has been endorsed by the ECSSA, the Southern African Society of Critical Care (SASCC), and the International Board for Specialty Certification (IBSC). Results: The proposed definition outlines five equally important aspects that should be demonstrable and interlinked to be denoted a CCRS. These five aspects are: specific patient populations, case selection, dedicated crew with additional training, dedicated equipment, and continuous quality management and training. Conclusion: Numerous questions remain unanswered regarding the best approach for CCRS development in South Africa and internationally. Defining what CCRS is in a South African context is a necessary departure point for further research endeavours to develop a core curriculum and practice standards.
References
Bhagwanjee S, Scribante J. National audit of critical care resources in South Africa - unit and bed distribution. S Afr Med J. 2007 Dec;97(12 Pt 3):1311–4.
Slabbert JA, Smith WP. Patient transport from rural to tertiary healthcare centres in the Western Cape: Is there room for improvement? African J Emerg Med [Internet]. 2011;1(1):11–6. Available from: http://www.sciencedirect.com/science/article/pii/S2211419X11000024
Ashokcoomar P, Naidoo R. An analysis of inter-healthcare facility transfer of neonates within the eThekwini Health District of KwaZulu-Natal, South Africa. S Afr Med J. South Africa; 2016 Apr;106(5):514–8.
Venter M, Stanton D, Conradie NJ, Jordaan L, Venter C, Venter M, et al. The need for setting standards in critical care transfers. South African J Crit Care; Vol 33, No 1 [Internet]. 2017; Available from: http://www.sajcc.org.za/index.php/SAJCC/article/view/319/275
Health SAD of. National Health Act, 2003 (ACT NO. 61 OF 2003) Emergency Services Regulations. 2017 p. 74–86.
Guidelines for the transport of the critically ill adult 3rd edition. 2011.
Evans DC, Creaton PA, Kennedy DM, Martin DT. Retrieval Medicine (Oxford Specialist Handbooks) [Internet]. Oxford, UK; Available from: http://oxfordmedicine.com/view/10.1093/med/9780198722168.001.0001/med-9780198722168
Ajizian SJ, Nakagawa TA. Interfacility transport of the critically ill pediatric patient. Chest. United States; 2007 Oct;132(4):1361–7.
Alabdali A, Fisher JD, Trivedy C, Lilford RJ. A Systematic Review of the Prevalence and Types of Adverse Events in Interfacility Critical Care Transfers by Paramedics. Air Med J. United States; 2017 May;36(3):116–21.
Colyer E, Sorensen M, Wiggins S, Struwe L. The Effect of Team Configuration on the Incidence of Adverse Events in Pediatric Critical Care Transport. Air Med J. United States; 2018 May;37(3):186–98.
Ramnarayan P, Dimitriades K, Freeburn L, Kashyap A, Dixon M, Barry PW, et al. Interhospital Transport of Critically Ill Children to PICUs in the United Kingdom and Republic of Ireland: Analysis of an International Dataset. Pediatr Crit Care Med. United States; 2018 Jun;19(6):e300–11.
Craig SS. Challenges in arranging interhospital transfers from a small regional hospital: an observational study. Emerg Med Australas. Australia; 2005 Apr;17(2):124–31.
Droogh JM, Smit M, Hut J, de Vos R, Ligtenberg JJM, Zijlstra JG. Inter-hospital transport of critically ill patients; expect surprises. Crit Care. England; 2012 Feb;16(1):R26.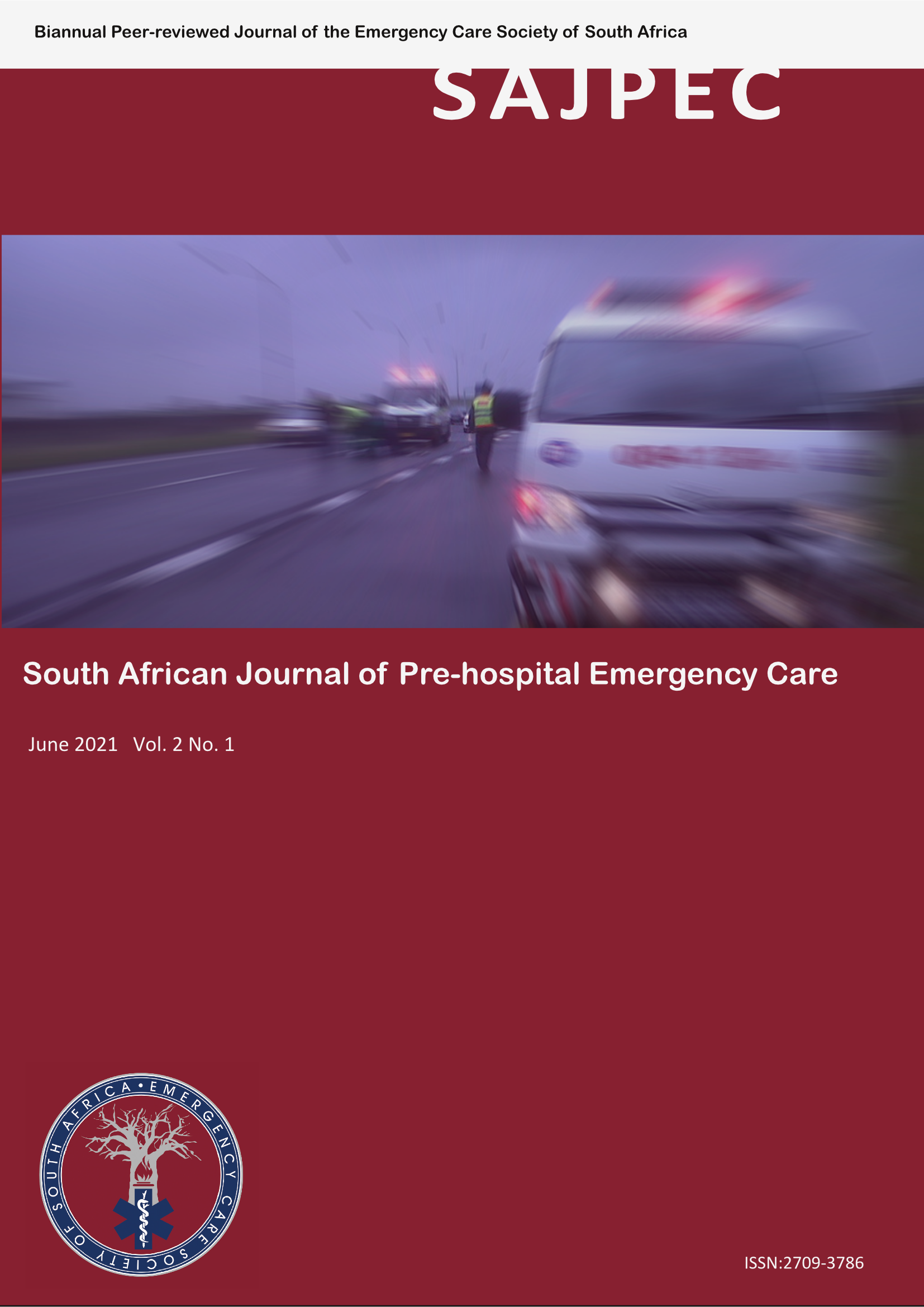 Copyright (c) 2021 South African Journal of Pre-Hospital Emergency Care
This work is licensed under a Creative Commons Attribution-NonCommercial-NoDerivatives 4.0 International License.
Authors grant the Emergency Care Society of South Africa the exclusive right to publish, display, reproduce and/or distribute the work in print and electronic format and in any medium known or hereafter developed, including for commercial use. Authors also agree that the Emergency Care Society of South Africa may retain in print or electronic format more than one copy of the work for the purpose of preservation, security and back-up.