Carotid endarterectomy: A case study and literature review
Tebogo Tabane

Alexis Oosthuizen
Abstract
Carotid endarterectomy (CEA) is a preventative surgery that is performed in patient populations at risk of emboli due to an atherosclerotic plaque, located at the carotid bifurcation. Despite the advances in overall treatment, no consensus has been reached on the preferred anaesthetic for CEA. Improved procedural outcomes are due to the advances in medical therapy, cerebral monitoring, improved timing of surgery with improved surgical techniques and the use of ultrasound guided regional techniques. However, the choice of anaesthetic should consider the patient, the hospital's resources and the preferences of the anaesthesiologist and surgeon.
SAHeart 2022;19:20-23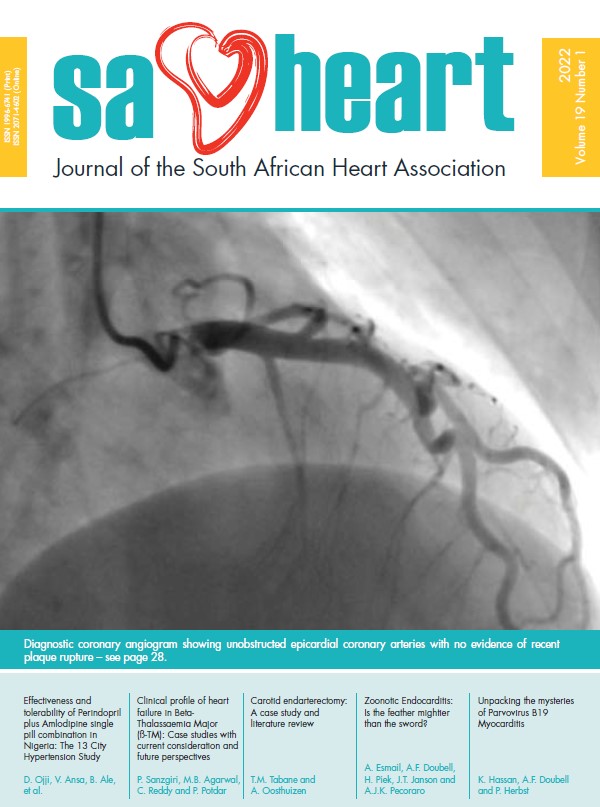 Copyright (c) 2022 SA Heart Journal
This work is licensed under a Creative Commons Attribution-NonCommercial-NoDerivatives 4.0 International License.
This journal is an open access journal, and the authors and journal should be properly acknowledged, when works are cited.
Authors may use the publishers version for teaching purposes, in books, theses, dissertations, conferences and conference papers.Â
A copy of the authors' publishers version may also be hosted on the following websites:
Non-commercial personal homepage or blog.
Institutional webpage.
Authors Institutional Repository.Â
The following notice should accompany such a posting on the website: "This is an electronic version of an article published in SAHJ, Volume XXX, number XXX, pages XXX–XXX", DOI. Authors should also supply a hyperlink to the original paper or indicate where the original paper (http://www.journals.ac.za/index.php/SAHJ) may be found.Â
Authors publishers version, affiliated with the Stellenbosch University will be automatically deposited in the University's' Institutional Repository SUNScholar.
Articles as a whole, may not be re-published with another journal.
Copyright Holder: SA Heart Journal
The following license applies:
Attribution CC BY-NC-ND 4.0