A comparison of coronary angiography and myocardial perfusion studies, using quantitative scoring systems
Preesha Premsagar

Colleen Aldous

Tonya Esterhuizen
Abstract
Background: Results of myocardial perfusion for screening coronary artery disease (CAD), and angiography for diagnosing CAD, can be quantified using summed difference score (SDS) and Synergy between Percutaneous Coronary Intervention with Taxus and Cardiac Surgery (SYNTAX) score, respectively.
Aim: The aim is to quantitatively compare myocardial perfusion studies with angiography amongst South African patients using scoring systems.
Methods: SDS on myocardial perfusion and SYNTAX score on angiography were compared. Regional scores within each vessel (left anterior descending (LAD), circumflex and right coronary artery (RCA)) were also compared. Scores were further risk categorised and evaluated.
Results: The weak correlation between SDS and SYNTAX score (rs=0.210, p=0.015), became slightly negative when SYNTAX scores were stratified into low and intermediate-high risk groups. Regionally, LAD had very slight positive correlation (rs=0.171, p=0.048), circumflex (rs=0.164, p=0.058), and RCA (rs=0.116, p=0.184) no correlation. Conversely, comparison of scores categories was signifi cant (p=0.001).
Conclusions: Inherent differences in the design of 2 scoring systems that evaluate the LAD territory may explain these findings. These differences were dominance, regional blood flow distribution and significant luminal diameter reduction. This study highlights the need to interpret myocardial perfusion results contextually during CAD screening.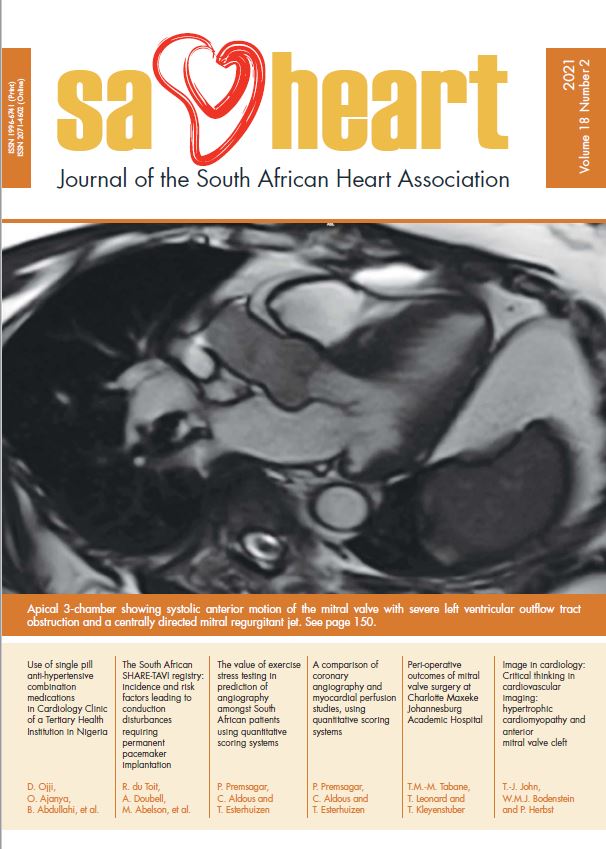 Copyright (c) 2021 SA Heart Journal
This work is licensed under a Creative Commons Attribution-NonCommercial-NoDerivatives 4.0 International License.
This journal is an open access journal, and the authors and journal should be properly acknowledged, when works are cited.
Authors may use the publishers version for teaching purposes, in books, theses, dissertations, conferences and conference papers.Â
A copy of the authors' publishers version may also be hosted on the following websites:
Non-commercial personal homepage or blog.
Institutional webpage.
Authors Institutional Repository.Â
The following notice should accompany such a posting on the website: "This is an electronic version of an article published in SAHJ, Volume XXX, number XXX, pages XXX–XXX", DOI. Authors should also supply a hyperlink to the original paper or indicate where the original paper (http://www.journals.ac.za/index.php/SAHJ) may be found.Â
Authors publishers version, affiliated with the Stellenbosch University will be automatically deposited in the University's' Institutional Repository SUNScholar.
Articles as a whole, may not be re-published with another journal.
Copyright Holder: SA Heart Journal
The following license applies:
Attribution CC BY-NC-ND 4.0