Variation in ascending thoracic aorta position
An analysis by computed tomography
J.G. Koen

Tygerberg Hospital

J.T. Janson

Tygerberg Hospital
Abstract
Background: There is no evidence in current literature that demonstrates the prevalence of ascending thoracic aortic variation in relation to the sternum in the general, or diseased population. This measurement has become an important factor in decision-making for Trans- Catheter Aortic Valve Implantation (TAVI) and Minimally Invasive Cardiac Surgery (MICS). Methods: We conducted a cross-sectional study in Cape Town, South Africa. We evaluated the Thoracic CT scans of pre-selected TAVI patients (n=25) and compared these to Thoracic CT scans from the same general population (n=100). Three parameters of ascending thoracic aorta variations were measured. Results: Mean aorta distance from sternum was 28.01mm (95% CI: 24.56 - 31.48) in cases and 27.34mm (95% CI: 25.49 - 29.20) in controls (p<0.001). The mean position of the aorta relative to the sternum, favoured the aorta being less than 50% of its diameter to the right, in both groups. Aorto-ventricular angle showed a mean angle (degrees) of 47.92 (95% CI: 44.36 - 51.23) in cases and 37.06 (95% CI: 35.03 - 39.09) in controls. Subgroup analysis for age >60 years revealed no difference between groups (p=0.314). An overall linear relationship of aortoventricular angle, compared to age, was demonstrated. Conclusion: Statistical analysis of ascending thoracic aorta position indicates that patients presenting for aortic valve surgery, especially older patients (>70 years), have favourable anatomy for MICS through a right thoracotomy. The aortic distance from the sternum was larger in the exposed group >60 years. Aortic valve disease does not cause variation in aorto-ventricular angle. The aorto-ventricular angle increases linearly with age, in both groups.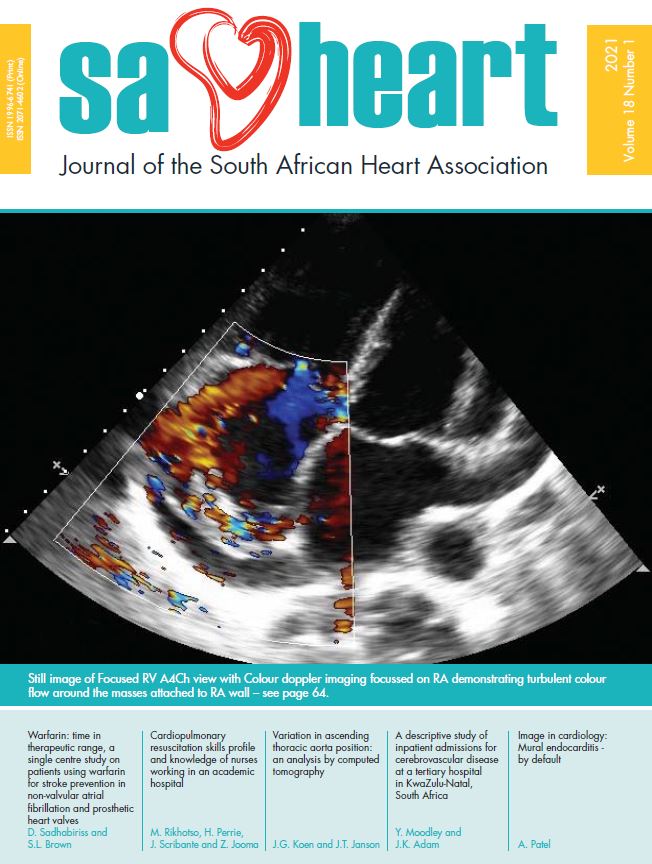 Copyright (c) 2021 SA Heart Journal
This work is licensed under a Creative Commons Attribution-NonCommercial-NoDerivatives 4.0 International License.
This journal is an open access journal, and the authors and journal should be properly acknowledged, when works are cited.
Authors may use the publishers version for teaching purposes, in books, theses, dissertations, conferences and conference papers.Â
A copy of the authors' publishers version may also be hosted on the following websites:
Non-commercial personal homepage or blog.
Institutional webpage.
Authors Institutional Repository.Â
The following notice should accompany such a posting on the website: "This is an electronic version of an article published in SAHJ, Volume XXX, number XXX, pages XXX–XXX", DOI. Authors should also supply a hyperlink to the original paper or indicate where the original paper (http://www.journals.ac.za/index.php/SAHJ) may be found.Â
Authors publishers version, affiliated with the Stellenbosch University will be automatically deposited in the University's' Institutional Repository SUNScholar.
Articles as a whole, may not be re-published with another journal.
Copyright Holder: SA Heart Journal
The following license applies:
Attribution CC BY-NC-ND 4.0