Admission blood glucose as a prognostic indicator in patients with acute myocardial infarction
Raisul Russel

Department of Medicine Nelson R. Mandela School of Medicine University of KwaZulu-Natal

Ranesh Ranjith

Cardiac and Heart Failure Centre City Hospital (Joint Medical Holdings) Durban

Benn Sartorius

Department of Public Health Medicine School of Nursing and Public Health University of KwaZulu-Natal
Abstract
Objective: To investigate the utility of admission blood glucose for predicting major adverse cardiac events (MACE) during hospitalisation and 6 months' postdischarge in acute myocardial infarction (AMI) patients.
Methods and results: This study recruited 2878 AMI patients admitted to the Coronary Care Unit at R. K. Khan Hospital, Durban, South Africa, from 2002 - 2014. Demographic and clinical data stored in an electronic database were obtained from all patients. Admission blood glucose levels were sub-divided into 3 groups; low (<7.8), medium (7.8-10.9) and high (≥11) mmol/l. The mean age of the study population was 57.18 ± 7 years of whom 65% were males. Self-reported diabetes was found in 59%, while 377 patients were diagnosed with diabetes based on HbA1c levels ≥6.5%, increasing the overall prevalence to 72% (n=2070). More patients were in the low admission blood glucose group (49%), medium group (16%), and high group (35%). The highest prevalence of MACE was seen in the high group (42%) compared to either the medium (39%) or low groups (26%; p<0.001), particularly for cardiogenic shock (p<0.001), cardiac failure (p<0.001) and death (p<0.001). Following multivariable logistic regression analyses of clinical and laboratory parameters associated with mortality, high admission blood glucose conferred a significantly increased odds of mortality (p=0.001). The optimal cut-off admission blood glucose value as determined via the receiver operating characteristic curve for predicting in hospital and 6 months' mortality was 8.5mmol/l (AUC of 0.63) and 8.1mmol/l (AUC of 0.61) for MACE.
Conclusions: This study shows that patients have multiple risk factors for AMI with diabetes playing a central role. Although elevated admission blood glucose is an important predictor for in hospital and shortterm MACE, the cut-off value for predicting MACE and mortality has only modest predictability and further research is required to improve the performance of these measures for routine clinical use.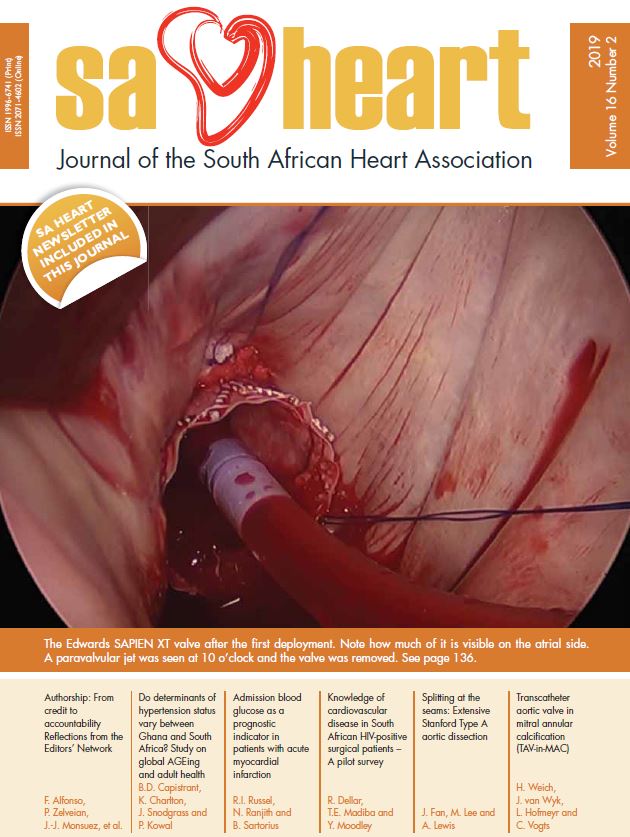 Copyright (c) 2019 SA Heart Journal
This work is licensed under a Creative Commons Attribution-NonCommercial-NoDerivatives 4.0 International License.
This journal is an open access journal, and the authors and journal should be properly acknowledged, when works are cited.
Authors may use the publishers version for teaching purposes, in books, theses, dissertations, conferences and conference papers.Â
A copy of the authors' publishers version may also be hosted on the following websites:
Non-commercial personal homepage or blog.
Institutional webpage.
Authors Institutional Repository.Â
The following notice should accompany such a posting on the website: "This is an electronic version of an article published in SAHJ, Volume XXX, number XXX, pages XXX–XXX", DOI. Authors should also supply a hyperlink to the original paper or indicate where the original paper (http://www.journals.ac.za/index.php/SAHJ) may be found.Â
Authors publishers version, affiliated with the Stellenbosch University will be automatically deposited in the University's' Institutional Repository SUNScholar.
Articles as a whole, may not be re-published with another journal.
Copyright Holder: SA Heart Journal
The following license applies:
Attribution CC BY-NC-ND 4.0