Do determinants of hypertension status vary between Ghana and South Africa? Study on global AGEing and adult health
Benjamin Capistrant

School for Social Work Smith College Northampton Massachusetts United States of America

Karen Charlton

School of Medicine University of Wollongong New South Wales Australia

Josh Snodgrass

University of Oregon Eugene Oregon United States of America

Paul Kowal

Research Centre for Gender, Health and Ageing University of Newcastle New South Wales Australia
Abstract
Objectives: Determinants of hypertension prevalence, diagnosis and control are poorly understood in sub-Saharan Africa, including whether these determinants vary between and among countries.
Methods: A cross-sectional analysis of Study on global AGEing and adult health (SAGE) data, nationally representative samples of adults aged 50+ (n=3 458 South Africa; n=4 196 in Ghana). Hypertension prevalence and status (awareness, treatment and control) were determined from directly measured blood pressure and respondents' self-reported history of hypertension diagnosis and current treatment status. Sex-stratified, multivariable adjusted logistic regression models were used to test cross-country differences in demographic, socio-economic, environmental, and health-related determinants of hypertension prevalence and status.
Results: South Africans had higher age-standardised prevalence of hypertension (Men: 76%, Women: 82%) compared to Ghana (Men: 57%, Women: 61%). Odds of hypertension prevalence varied for rural residence and education varied between country. Consistent differences in awareness of hypertension between countries included education, income, and weight status by sex; sex-specific differences between countries were also apparent. Determinants of control and management of hypertension (education) differed between countries only for women.
Conclusions: Behavioural, environmental, and social determinants all influence hypertension prevalence and status for middle and older-age adults in sub-Saharan Africa, although differently between countries.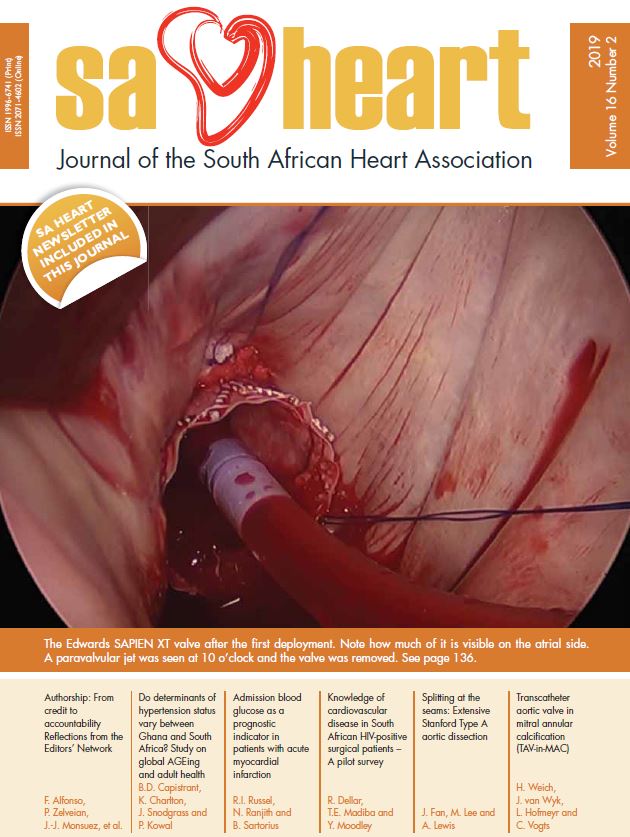 Copyright (c) 2019 SA Heart Journal
This work is licensed under a Creative Commons Attribution-NonCommercial-NoDerivatives 4.0 International License.
This journal is an open access journal, and the authors and journal should be properly acknowledged, when works are cited.
Authors may use the publishers version for teaching purposes, in books, theses, dissertations, conferences and conference papers.Â
A copy of the authors' publishers version may also be hosted on the following websites:
Non-commercial personal homepage or blog.
Institutional webpage.
Authors Institutional Repository.Â
The following notice should accompany such a posting on the website: "This is an electronic version of an article published in SAHJ, Volume XXX, number XXX, pages XXX–XXX", DOI. Authors should also supply a hyperlink to the original paper or indicate where the original paper (http://www.journals.ac.za/index.php/SAHJ) may be found.Â
Authors publishers version, affiliated with the Stellenbosch University will be automatically deposited in the University's' Institutional Repository SUNScholar.
Articles as a whole, may not be re-published with another journal.
Copyright Holder: SA Heart Journal
The following license applies:
Attribution CC BY-NC-ND 4.0