Challenges and diagnosis of isolated left ventricular non-compaction: A case series of 4 patients with echocardiographic diagnosis of possible ILVNC
Nontuthuzelo Lufundo

Department of Internal Medicine Faculty of Health Sciences University of the Free State

Hendrik Du Toit

Department of Cardiology Faculty of Health Sciences University of the Free State

Claire Barrett

Department of Internal Medicine Faculty of Health Sciences University of the Free State
Abstract
Isolated left ventricular non-compaction (ILVNC) is a rare, congenital, idiopathic cardiomyopathy that may present in adulthood. There is no true gold standard for the diagnosis of ILVNC. Two-dimensional echocardiography with colour Doppler is the modality of choice to diagnose the condition. However, the diagnosis should be confirmed with cardiac magnetic resonance imaging (CMRI), as well as either a positive family history, complications of ILVNC or confirmatory genetic testing.
We describe the clinical and echocardiographic features in 4 patients, each with a possible diagnosis of ILVNC, in the setting of potential alternative aetiologies for heart failure. Approval to present these cases was obtained from the institutional ethics committee and the patients also provided consent. Sufficient transthoracic echocardiographic (TTE) evidence of ILVNC according to previously published criteria was found in all the cases, although it was not confirmed with CMRI.
This case series highlights the importance of routine echocardiography in all patients who present with heart failure – irrespective of associated risk factors. We caution against over-diagnosis of ILVNC with TTE alone, and recommend the use of CMRI as a second-line diagnostic investigation. Screening of family members and prevention of complications of confirmed cases of ILVNC are important.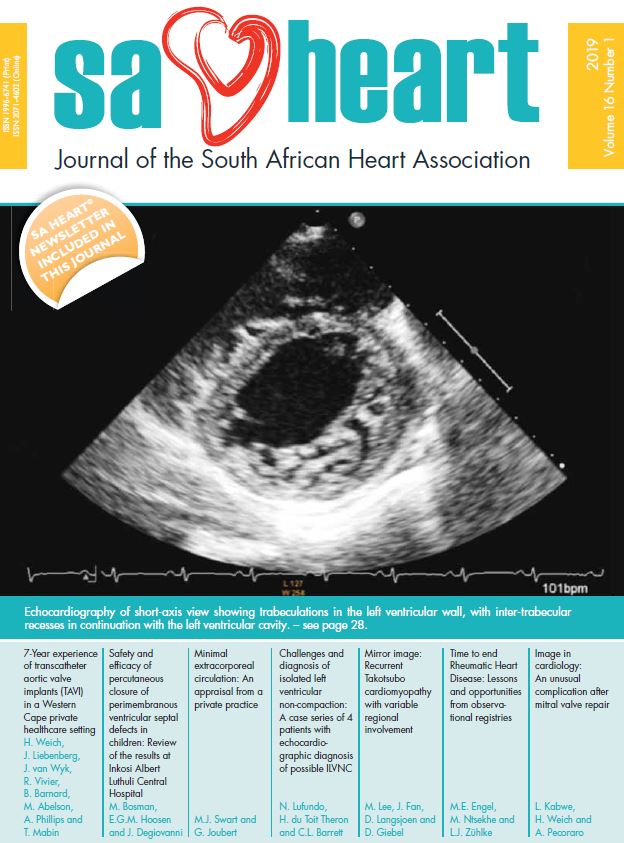 Copyright (c) 2019 SA Heart Journal
This work is licensed under a Creative Commons Attribution-NonCommercial-NoDerivatives 4.0 International License.
This journal is an open access journal, and the authors and journal should be properly acknowledged, when works are cited.
Authors may use the publishers version for teaching purposes, in books, theses, dissertations, conferences and conference papers.Â
A copy of the authors' publishers version may also be hosted on the following websites:
Non-commercial personal homepage or blog.
Institutional webpage.
Authors Institutional Repository.Â
The following notice should accompany such a posting on the website: "This is an electronic version of an article published in SAHJ, Volume XXX, number XXX, pages XXX–XXX", DOI. Authors should also supply a hyperlink to the original paper or indicate where the original paper (http://www.journals.ac.za/index.php/SAHJ) may be found.Â
Authors publishers version, affiliated with the Stellenbosch University will be automatically deposited in the University's' Institutional Repository SUNScholar.
Articles as a whole, may not be re-published with another journal.
Copyright Holder: SA Heart Journal
The following license applies:
Attribution CC BY-NC-ND 4.0