The association of depressive symptoms in patients with acute myocardial infarction in a regional hospital in Durban, South Africa
Chiara Sookan

Department of Psychiatry Nelson R. Mandela School of Medicine University of KwaZulu-Natal

Naresh Ranjith

Department of Medicine, Nelson R. Mandela School of Medicine University of KwaZulu-Natal City Hospital (JMH) Durban

Ben Sartorius

Department of Public Health Medicine School of Nursing and Public Health University of KwaZulu-Natal

Suvira Ramlall

Discipline of Psychiatry Nelson R. Mandela School of Medicine University of KwaZulu-Natal King Dinuzulu Hospital Complex
Abstract
Objective: To examine the association of depressive symptoms and contributing psychosocial factors during hospitalisation and 1-month post discharge in patients with acute myocardial infarction (MI).
Methods and results: The study population comprised consecutive patients from a multi-ethnic background, admitted June 2015 - November 2015 to the Coronary Care Unit at R. K. Khan Hospital, Durban, South Africa, with a diagnosis of MI. Demographic and clinical data stored in a specialised electronic cardiac database were extracted for all patients. Patients were screened for depressive symptoms using the Cardiac Depression Scale (CDS). Levels of perceived stress were evaluated using the 4-item Perceived Stress Scale (4-PSS). The study cohort consisted of 117 patients with a mean age of 58.16 ± 11.12 years, the majority of whom were males (70%, mean age 56.54 ± 1.23 years) and 30% females (mean age 61.97 ± 1.75 years). Forty-nine percent of the participants were diagnosed with depressive symptoms with a significantly greater number of females experiencing depressive symptoms compared to males (p <0.01). Patients with depressive symptoms were more likely to have a previous history of depression (p=0.02), positive family history of depression (p=0.04), greater non-adherence to their medication (p <0.01) and lower levels of physical activity (p <0.01). Depressed patients also reported higher levels of stress on voluntary (p <0.01) and subjective rating (p <0.01), experienced greater financial stress (p <0.01), major life events (p <0.01) and had higher 4–PSS scores (p <0.01). Thirteen percent of patients experienced major adverse cardiac events (MACE) with a significantly greater number of events found in those with depressive symptoms (p <0.01).
Conclusion: Depressive symptoms are a common finding in a South African population presenting with MI. They are linked to higher rates of MACE, a previous history and/or family history of depression, greater stress levels and major life events. Females with MI are significantly more likely to present with depressive symptoms. These findings suggest that patients with MI should be screened for depressive symptoms and psychosocial factors as this may serve as an important arena for research and therapeutic intervention.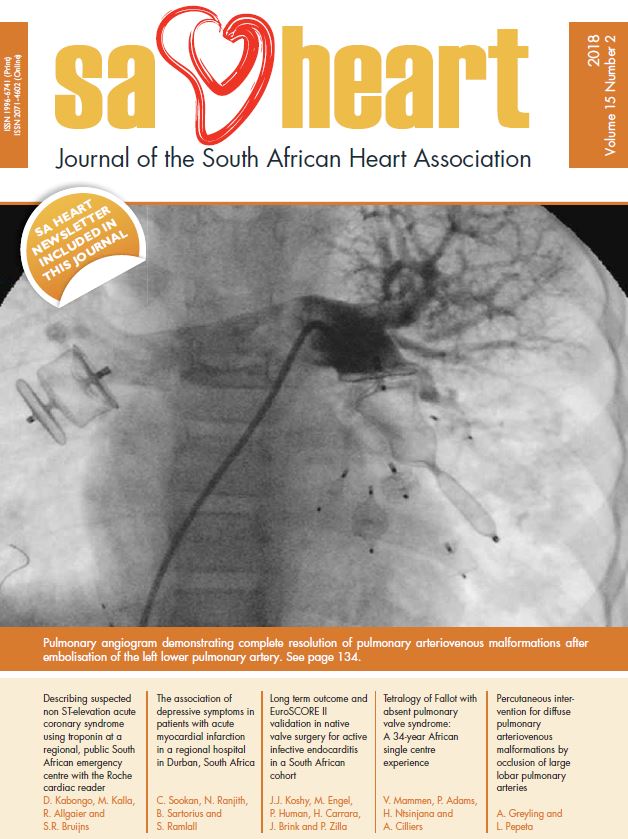 Copyright (c) 2018 SA Heart Journal
This work is licensed under a Creative Commons Attribution-NonCommercial-NoDerivatives 4.0 International License.
This journal is an open access journal, and the authors and journal should be properly acknowledged, when works are cited.
Authors may use the publishers version for teaching purposes, in books, theses, dissertations, conferences and conference papers.Â
A copy of the authors' publishers version may also be hosted on the following websites:
Non-commercial personal homepage or blog.
Institutional webpage.
Authors Institutional Repository.Â
The following notice should accompany such a posting on the website: "This is an electronic version of an article published in SAHJ, Volume XXX, number XXX, pages XXX–XXX", DOI. Authors should also supply a hyperlink to the original paper or indicate where the original paper (http://www.journals.ac.za/index.php/SAHJ) may be found.Â
Authors publishers version, affiliated with the Stellenbosch University will be automatically deposited in the University's' Institutional Repository SUNScholar.
Articles as a whole, may not be re-published with another journal.
Copyright Holder: SA Heart Journal
The following license applies:
Attribution CC BY-NC-ND 4.0