An investigation into the challenges and limitations of implementing universal pulse oximetry screening for critical congenital heart disease in asymptomatic newborns
Samantha Govender

Greys Hospital Department of Paediatrics and Child Health University of KwaZulu-Natal

M Ghuman

Addington Hospital Department of Paediatrics and Child Health University of KwaZulu-Natal

A Coutsoudis

Department of Paediatrics and Child Health University of KwaZulu-Natal
Abstract
Neonatal pulse oximetry has been identified as an important screening tool for critical congenital heart disease. This oximetry screening, although mandatory in many developed countries, is not routinely implemented in South African hospitals.
The objective of this study was therefore to determine the feasibility of implementing pulse oximetry in a typical level 2 hospital in the province of KwaZulu-Natal. Challenges and limitations experienced in implementing the screening were documented.
The study was an observational analytical descriptive study which was conducted in the postnatal ward of Addington Hospital, Durban. Nursing staff were educated regarding the importance of pulse oximetry screening and were subsequently trained to perform the procedure.
A total of 2 453 newborns were admitted to the hospital from January to August 2016 with 599 of these being eligible for enrolment in the study. Consent and screening were initially performed by participating nursing staff. During the last 4 months, consent was obtained by a dedicated research assistant. Of the 599 eligible newborns, 22 were excluded resulting in 577 being available for analysis. There were 29 newborns who fulfilled criteria for a second screening, however, in 21 of these newborns, the protocol was not appropriately followed.
This study suggests that while routine neonatal saturation monitoring appears to be a simple, cost-effective tool to detect critical congenital heart disease, several barriers to its implementation were detected. The main barriers were inadequate staffing and infrastructure. This, in turn, highlighted the need for appropriate human resource provision and training as well as adequate infrastructure. These may not be easily achievable in a resource constrained environment.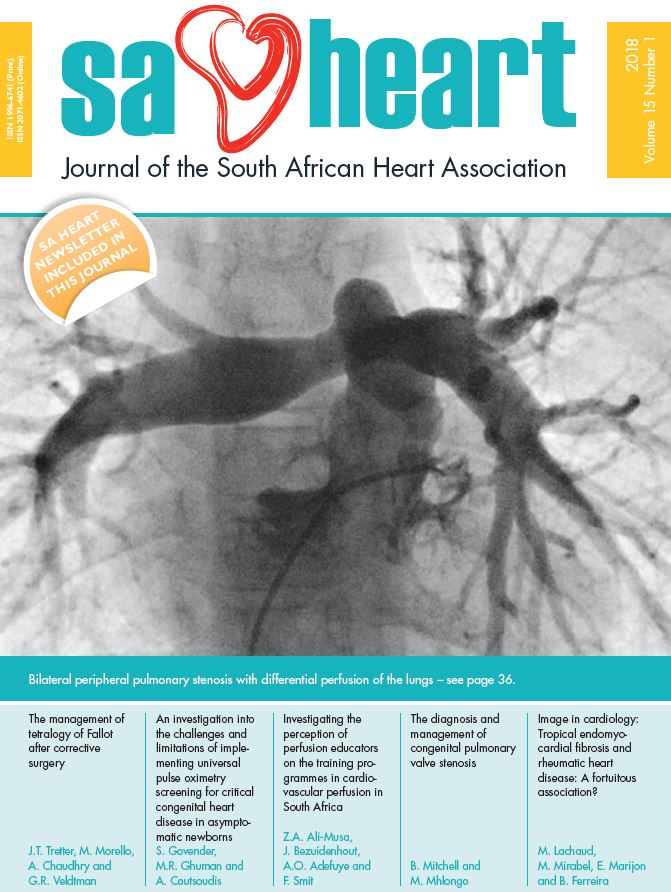 Copyright (c) 2018 SA Heart Journal
This work is licensed under a Creative Commons Attribution-NonCommercial-NoDerivatives 4.0 International License.
This journal is an open access journal, and the authors and journal should be properly acknowledged, when works are cited.
Authors may use the publishers version for teaching purposes, in books, theses, dissertations, conferences and conference papers.Â
A copy of the authors' publishers version may also be hosted on the following websites:
Non-commercial personal homepage or blog.
Institutional webpage.
Authors Institutional Repository.Â
The following notice should accompany such a posting on the website: "This is an electronic version of an article published in SAHJ, Volume XXX, number XXX, pages XXX–XXX", DOI. Authors should also supply a hyperlink to the original paper or indicate where the original paper (http://www.journals.ac.za/index.php/SAHJ) may be found.Â
Authors publishers version, affiliated with the Stellenbosch University will be automatically deposited in the University's' Institutional Repository SUNScholar.
Articles as a whole, may not be re-published with another journal.
Copyright Holder: SA Heart Journal
The following license applies:
Attribution CC BY-NC-ND 4.0