Approach to device-detected subclinical atrial fibrillation
Martin Van Zyl

Division of Cardiovascular Diseases Mayo Clinic

Christopher McLeod

Bernard Gersh
Abstract
Subclinical atrial fibrillation, a commonly encountered entity in patients with implantable devices, has been associated with a number of adverse outcomes – the most important of which is thromboembolism. Through the detection of atrial high rate episodes, implanted devices offer a method to monitor for atrial fibrillation over extended periods of time. Several studies have demonstrated that patients with device-detected atrial tachyarrhythmias have an increased incidence of stroke, especially in the presence of additional risk factors. Yet, there are many uncertainties with limited evidence from randomised clinical studies and no formal guidelines to inform management in this population. This contributes to marked practice heterogeneity, underrecognition and missed opportunities for stroke prevention. We propose a logical approach to management of patients with device-detected atrial high rate episodes pending additional data from ongoing trials.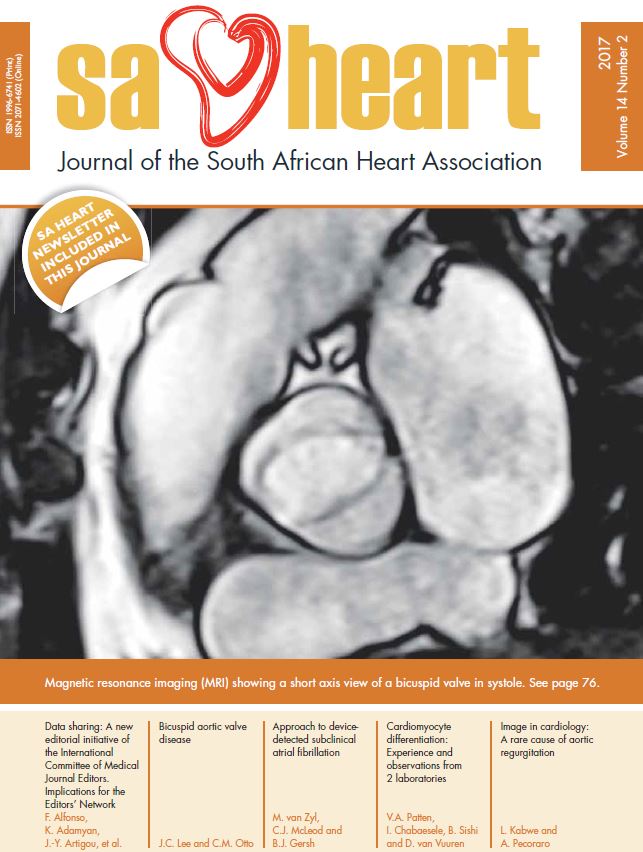 Copyright (c) 2017 SA Heart Journal
This work is licensed under a Creative Commons Attribution-NonCommercial-NoDerivatives 4.0 International License.
This journal is an open access journal, and the authors and journal should be properly acknowledged, when works are cited.
Authors may use the publishers version for teaching purposes, in books, theses, dissertations, conferences and conference papers.Â
A copy of the authors' publishers version may also be hosted on the following websites:
Non-commercial personal homepage or blog.
Institutional webpage.
Authors Institutional Repository.Â
The following notice should accompany such a posting on the website: "This is an electronic version of an article published in SAHJ, Volume XXX, number XXX, pages XXX–XXX", DOI. Authors should also supply a hyperlink to the original paper or indicate where the original paper (http://www.journals.ac.za/index.php/SAHJ) may be found.Â
Authors publishers version, affiliated with the Stellenbosch University will be automatically deposited in the University's' Institutional Repository SUNScholar.
Articles as a whole, may not be re-published with another journal.
Copyright Holder: SA Heart Journal
The following license applies:
Attribution CC BY-NC-ND 4.0