Radiofrequency catheter ablation in infants and children
Adele Greyling

Department of Electrophysiology Leuven University Hospital Leuven Department of Paediatric Cardiology Dora Nginza Hospital Walter Sisulu University Port Elizabeth

Joris Ector

Department of Electrophysiology Leuven University Hospital Leuven

Christophe Garweg

Department of Electrophysiology Leuven University Hospital Leuven
Abstract
Background: Diagnosis and treatment of paediatric arrhythmias remain challenging. Antiarrhythmic - drugs beta-blockers, class Ic and class III drugs, were the only treatment available for many years. Radiofrequency catheter ablation (RFCA) was introduced for adult patients in 1981 and has been used for children since 1989. Questions remain regarding the efficacy and safety in paediatrics.
Method: A retrospective analysis of patient records, 12 years and younger, at Leuven University Hospital, from January 2011 - July 2015 was performed.
Results: From January 2011 - July 2015, 51 ablations were performed in 44 patients ≤12 years of age. Mean age was 7 years (range 3 weeks - 12 years), 11 (21.5%) ≤2 years; mean weight 16.5kg (range 3.4 - 56kg); average screening time 33.5min (SD } 22.7). Echocardiography was normal in 32 (72.7%) of patients. All cases were done under general anaesthesia. Diagnosis at electrophysiological study: Atrioventricular reentry tachycardia in 26 (50.9%), atrial ectopic tachycardia in 7 (13.7%), intra-atrial reentry tachycardia in 5 (9.8%), atrioventricular nodal reentry tachycardia in 11 (21.6%) and ventricular tachycardia in 2 (3.9%). RFCA was successful in 44 (86.3%) with recurrence rate of 13.7%. No signifi cant complications were noted.
Conclusion: RFCA can be performed safely and effectively in even the very young. Recurrence and complication rates are similar to those reported in adults. RFCA should be the treatment of choice in selected paediatric patients.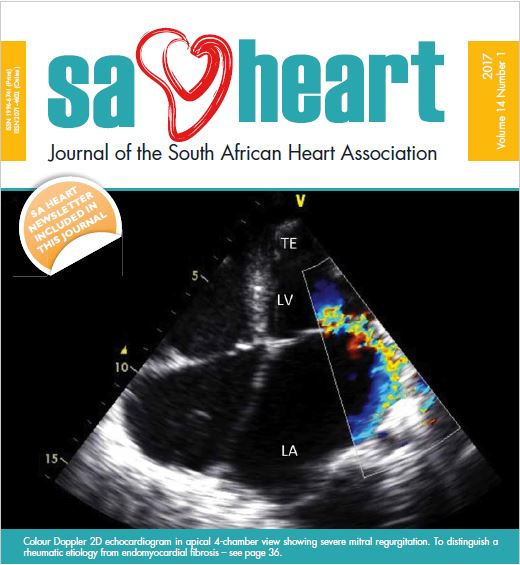 Copyright (c) 2017 SA Heart Journal
This work is licensed under a Creative Commons Attribution-NonCommercial-NoDerivatives 4.0 International License.
This journal is an open access journal, and the authors and journal should be properly acknowledged, when works are cited.
Authors may use the publishers version for teaching purposes, in books, theses, dissertations, conferences and conference papers.Â
A copy of the authors' publishers version may also be hosted on the following websites:
Non-commercial personal homepage or blog.
Institutional webpage.
Authors Institutional Repository.Â
The following notice should accompany such a posting on the website: "This is an electronic version of an article published in SAHJ, Volume XXX, number XXX, pages XXX–XXX", DOI. Authors should also supply a hyperlink to the original paper or indicate where the original paper (http://www.journals.ac.za/index.php/SAHJ) may be found.Â
Authors publishers version, affiliated with the Stellenbosch University will be automatically deposited in the University's' Institutional Repository SUNScholar.
Articles as a whole, may not be re-published with another journal.
Copyright Holder: SA Heart Journal
The following license applies:
Attribution CC BY-NC-ND 4.0