Embracing new techniques and new technologies in cardiac surgery – is it being done responsibly and safely?
Jacques Janson

Division of Cardiothoracic Surgery, Faculty of Medicine & Health Sciences, Stellenbosch University and Tygerberg Hospital
Abstract
Cardiac surgeons have been pioneers since the inception of this surgical field. Sixty years ago the development of the heart-lung machine paved the way for cardiac surgery. Since then many new innovations have been introduced, including artificial heart valves, coronary artery bypass grafting, cardiac transplantation, minimally invasive techniques, transcutaneous heart valves and mechanical assist devices. This has required parallel development and advances in medical imaging, such as angiography, echocardiography, CT scanning and MRI providing accurate preoperative diagnosis and optimal planning of surgical procedures.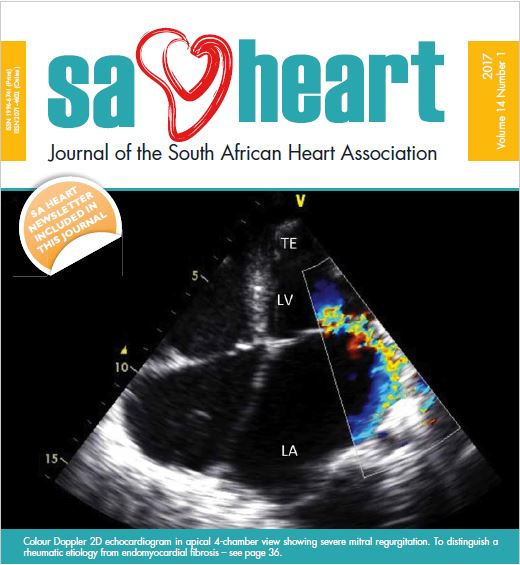 Copyright (c) 2017 SA Heart Journal
This work is licensed under a Creative Commons Attribution-NonCommercial-NoDerivatives 4.0 International License.
This journal is an open access journal, and the authors and journal should be properly acknowledged, when works are cited.
Authors may use the publishers version for teaching purposes, in books, theses, dissertations, conferences and conference papers.Â
A copy of the authors' publishers version may also be hosted on the following websites:
Non-commercial personal homepage or blog.
Institutional webpage.
Authors Institutional Repository.Â
The following notice should accompany such a posting on the website: "This is an electronic version of an article published in SAHJ, Volume XXX, number XXX, pages XXX–XXX", DOI. Authors should also supply a hyperlink to the original paper or indicate where the original paper (http://www.journals.ac.za/index.php/SAHJ) may be found.Â
Authors publishers version, affiliated with the Stellenbosch University will be automatically deposited in the University's' Institutional Repository SUNScholar.
Articles as a whole, may not be re-published with another journal.
Copyright Holder: SA Heart Journal
The following license applies:
Attribution CC BY-NC-ND 4.0