Aetiology, diagnosis and management of heart failure in infants and children
Lungile Pepeta

Faculty of Health Sciences Nelson Mandela Metropolitan University Port Elizabeth
Abstract
Heart failure is due to failure of ventricular filling with failure of ejection of blood from the ventricles. It may present as volume overload with ventricular dysfunction, volume overload with preserved ventricular function, and pressure overload. Causes of heart failure in the paediatric age group include both congenital and acquired heart diseases. Dilated cardiomyopathy remains the most common cause of heart failure in the paediatric population. In this article, epidemiology; pathophysiology; aetiology; clinical presentation; investigations including radiological and laboratory investigations; medical and non-medical management of acute, chronic and end-stage heart failure and prognosis will be reviewed.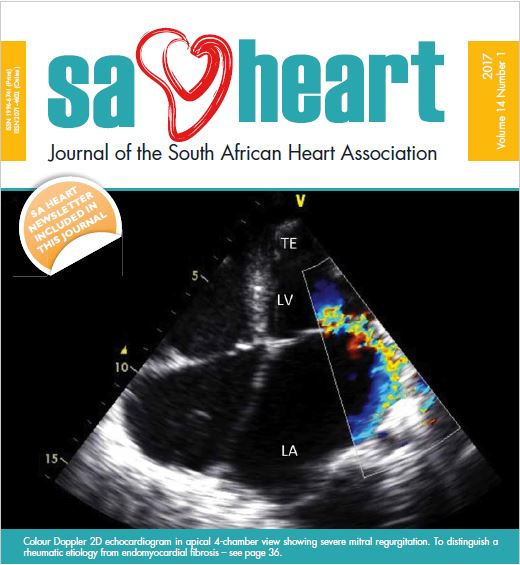 Copyright (c) 2017 SA Heart Journal
This work is licensed under a Creative Commons Attribution-NonCommercial-NoDerivatives 4.0 International License.
This journal is an open access journal, and the authors and journal should be properly acknowledged, when works are cited.
Authors may use the publishers version for teaching purposes, in books, theses, dissertations, conferences and conference papers.Â
A copy of the authors' publishers version may also be hosted on the following websites:
Non-commercial personal homepage or blog.
Institutional webpage.
Authors Institutional Repository.Â
The following notice should accompany such a posting on the website: "This is an electronic version of an article published in SAHJ, Volume XXX, number XXX, pages XXX–XXX", DOI. Authors should also supply a hyperlink to the original paper or indicate where the original paper (http://www.journals.ac.za/index.php/SAHJ) may be found.Â
Authors publishers version, affiliated with the Stellenbosch University will be automatically deposited in the University's' Institutional Repository SUNScholar.
Articles as a whole, may not be re-published with another journal.
Copyright Holder: SA Heart Journal
The following license applies:
Attribution CC BY-NC-ND 4.0