Pre-service teachers' self-efficacy, attitudes and academic performance with regard to undergraduate research modules
J. West

University of Pretoria Pretoria, South Africa

C. Meier

University of South Africa Pretoria, South Africa
Abstract
The South African schooling system does not sufficiently prepare students for the demands raised by higher education institutions (HEIs). This study investigates the important role that self-efficacy and attitude play in determining pre-service teachers' performance within research modules at private HEIs. Almost 90% of final year education students (n = 128) at private HEIs, emphasise their dislike for research. They also express their struggle in understanding research modules and how they relate to the teaching profession. This concurrent mixed-method study uses qualitative research to help explain quantitative findings regarding pre-service teachers' challenges and concerns with regard to research modules. The study also determines pre-service teachers' self-efficacy and attitude by administering a survey before the module and qualitative questionnaire upon completion of the research module. By determining pre-service teachers' self-efficacy and attitude, the effectiveness of the research modules is also determined. The relationship between pre-service teachers' self-efficacy, attitude and research module performance as part of the B.Ed. curriculum is established. The generic nature of undergraduate research modules allows for this case study's purpose to be transferred to any other discipline or HEI. This study contributes to the advancement of institutional research across HEIs and stimulates interdisciplinary engagement within the field of research modules in South Africa.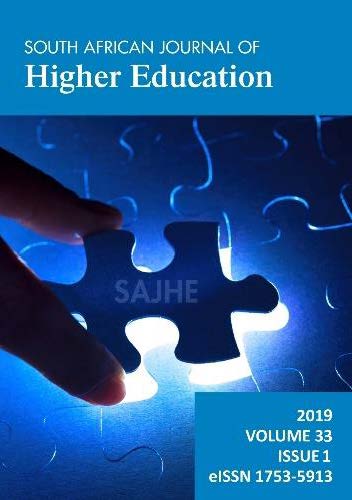 Copyright (c) 2019 Joyce West
This work is licensed under a Creative Commons Attribution-NonCommercial-NoDerivatives 4.0 International License.
This journal is an open access journal, and the authors and journal should be properly acknowledged, when works are cited.
Authors, copyright holders, may use the publishers version for teaching purposes, in books, theses, dissertations, conferences and conference papers.Â
A copy of the authors' publishers version may also be hosted on the following websites:
Non-commercial personal homepage or blog.
Institutional webpage.
Authors Institutional Repository.
The following notice should accompany such a posting on the website: "This is an electronic version of an article published in SAJHE, Volume XXX, number XXX, pages XXX–XXX", DOI. Authors should also supply a hyperlink to the original paper or indicate where the original paper (http://www.journals.ac.za/index.php/SAJHE) may be found.
Authors publishers version, affiliated with the Stellenbosch University will be automatically deposited in the University Institutional Repository SUNScholar.
Articles as a whole, may not be re-published with another journal.
The following license applies:
Attribution CC BY-NC-ND 4.0