Resistance and dissonance in higher education: On doing things differently
N. Davids

Stellenbosch University

Y. Waghid

Stellenbosch University
Abstract
The historical inequalities and imbalances, so deeply embedded in the institutional structures and discourse of higher education, continue to haunt university spaces as these institutions continue to veer along the precipice of transformation. While statues have been removed, buildings renamed, and fees adjusted, higher education in South Africa remains a largely disparate and alienating topography – no more so because of the gaping wounds left by iterative student protestations. Seemingly, the more leadership structures in higher education stonewalled student protestations, the more student resistance intensified – not only in scope, but in violence. In this sense, we are reminded of Foucault's (1997) dyadic depiction of power and resistance – that is, that power necessarily provokes resistance, since without resistance, there can be no power. In this article, we reflect, on the necessity of resistance not only in relation to power, but as a practice that ought to be ubiquitous to higher education. And secondly, we argue that if higher education is to fulfil its ideological mandate of doing things differently for the sake of epistemological and public good, then it necessarily has to be underscored by dissonance.  
References
Aronowitz, S. & Giroux, H.A. 2000, The corporate university and the politics of
education. The Educational Forum, 64:332–339.
Badat, S. 2010, The Challenges of Transformation in Higher Education and Training Institutions in South Africa. Paper Commissioned by the Development Bank of Southern Africa. https://www.ru.ac.za/.../The%20Challenges%20of%20Transformation%20in%20High Accessed on 13th June 2016
Badat, S. 2016, Deciphering the Meanings, and Explaining the South African Higher Education Student Protests of 2015-16. wiser.wits.ac.za/.../Saleem%20Badat%20%20Deciphering%20the%20Meanings,%20a... Accessed on 15th of June 2016.
DoE (Department of Education). 1997, Education White Paper No. 3: A Programme on the Transformation of Higher Education Transformation. Pretoria: Government Printers.
DoE (Department of Education). 2001, National Plan for Higher Education. Pretoria:
Government Printers.
Du Toit, A. 2000 'Critic and citizen: The intellectual, transformation and academic
freedom', Pretexts: Literary and Cultural Studies 9 (1): 91–104.
Foucault, M. (1977). 'The Political Function of the Intellectual', Radical Philosophy, 17 (13),
–133.
Foucault, M. (1980). 'Power and Strategies'. In C. Gordon (ed.), Power/Knowledge, pp. 134
New York, NY: Pantheon.
Foucault, M. (1982). 'The Subject and Power', Critical Inquiry, 8 (4), 777–795.
Foucault, M. (1983). M. Foucault: Beyond Structuralism and Hermeneutics (2nd ed.) (Ed. H.
Dreyfus and P. Rabinow). Chicago, IL: University of Chicago Press.
Foucault, M. (1988). Politics, Philosophy, Culture: Interviews and Other Writings 1977–1984
Ed. L. D. Kritzman). London: Routledge.
Foucault, M. (1991). Discipline and Punish: The Birth of a Prison. London: Penguin.
Foucault, M. (1994). Power: The Essential Works 3 (Ed. J. D. Faubion). London: Penguin Press.
Foucault, M. (1997). Ethics: Subjectivity and Truth (Ed. P. Rabinow, Trans. R. Hurley et al.).
London: Allen Lane, Penguin Press.
Foucault, M. (1998). The History of Sexuality: The Will to Knowledge. London: Penguin.
HESA (Higher Education South Africa). 2014, South African higher education in the
th year of democracy: Context, achievements and key challenges. HESA
presentation to the Portfolio Committee on Higher Education and Training in
Parliament, 5 March, Cape Town. Retrieved from http://www.hesa.org.za/hesa-presentation-portfolio-committee-higher-education-and-training [Accessed 18 September 2015].
Jansen, J. 2004, Changes and Continuities in South Africa's Higher Education System, 1994 to 2004 in Chisholm, L. (ed.) Changing Class: Education and Social Change in Post-apartheid South Africa. Pretoria: Human Science Research Council Press.
Marginson, S. (1993). Education and Public Policy in Australia. Cambridge: Cambridge
University Press.
Pickett, B. L. (1996). 'Foucault and the Politics of Resistance', Polity, 28 (4), 445–466.
Ryan, P. T. (2009). 'Foucault's Archeology: Metaphysics or Pragmatics?' <https://cola.unh.edu/sites/cola.unh.edu/files/student.../5_Foucualts_Archeology.pdf> accessed 2 June 2016.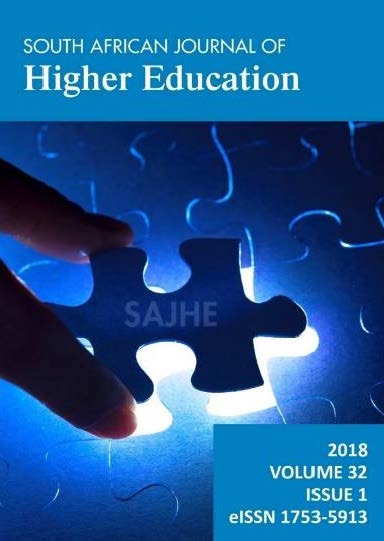 Copyright (c) 2018 Nuraan Davids
This work is licensed under a Creative Commons Attribution 4.0 International License.
This journal is an open access journal, and the authors and journal should be properly acknowledged, when works are cited.
Authors, copyright holders, may use the publishers version for teaching purposes, in books, theses, dissertations, conferences and conference papers.Â
A copy of the authors' publishers version may also be hosted on the following websites:
Non-commercial personal homepage or blog.
Institutional webpage.
Authors Institutional Repository.
The following notice should accompany such a posting on the website: "This is an electronic version of an article published in SAJHE, Volume XXX, number XXX, pages XXX–XXX", DOI. Authors should also supply a hyperlink to the original paper or indicate where the original paper (http://www.journals.ac.za/index.php/SAJHE) may be found.
Authors publishers version, affiliated with the Stellenbosch University will be automatically deposited in the University Institutional Repository SUNScholar.
Articles as a whole, may not be re-published with another journal.
The following license applies:
Attribution CC BY-NC-ND 4.0